Trick Dog Class 8
Trick Dog Class 8
CLASS 8 – "Peekaboo! (between my legs)"
HODINA 8. – "Kukuč! (mezi nohy)"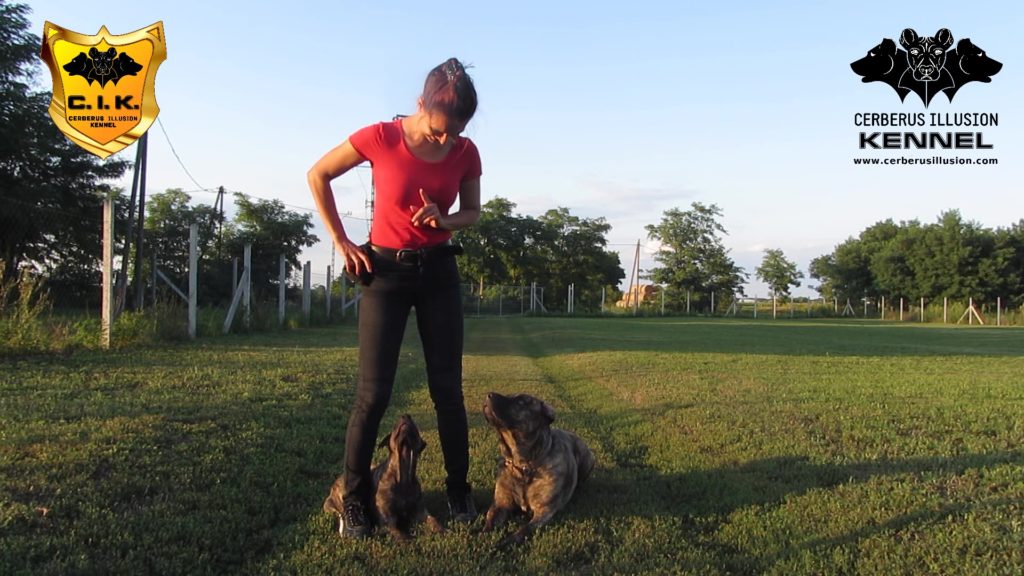 Let´s start the Novice Trick Dog Training with Certified Trick Dog Instructor and Cimarron Uruguayo dogs from Cerberus Illusion kennel.
We will continue with the command "Peekaboo! (between my legs)".
Začněme trénink Začátečnického Trikového Psa s Certifikovanou Instruktorkou Trikového Psa a s Uruguayskými Cimarrony z chovatelské stanice Cerberus Illusion.
Pokračujeme povelem "Kukuč! (mezi nohy)".
English
1/ Obtain a variety of small soft treats (small pieces of sausages).
2/ Get your dog´s attention for example by calling its name or by giving a command for paying attention like "watch".
3/ With the help of treats in your left-hand lure your dog between your legs into a sitting position. Your dog will follow the treat and get there. Command your dog to "Peekaboo" and give a treat to him as soon as it sits and makes eye contact with you.
4/ Say "peekaboo" and holding treats in your left hand in front of your dog´s nose make a step. The food is used as a lure during this so your dog will follow you. Command your dog to "sit" as soon as you stop. Wait a bit till your dog makes eye contact with you and reward it by treats.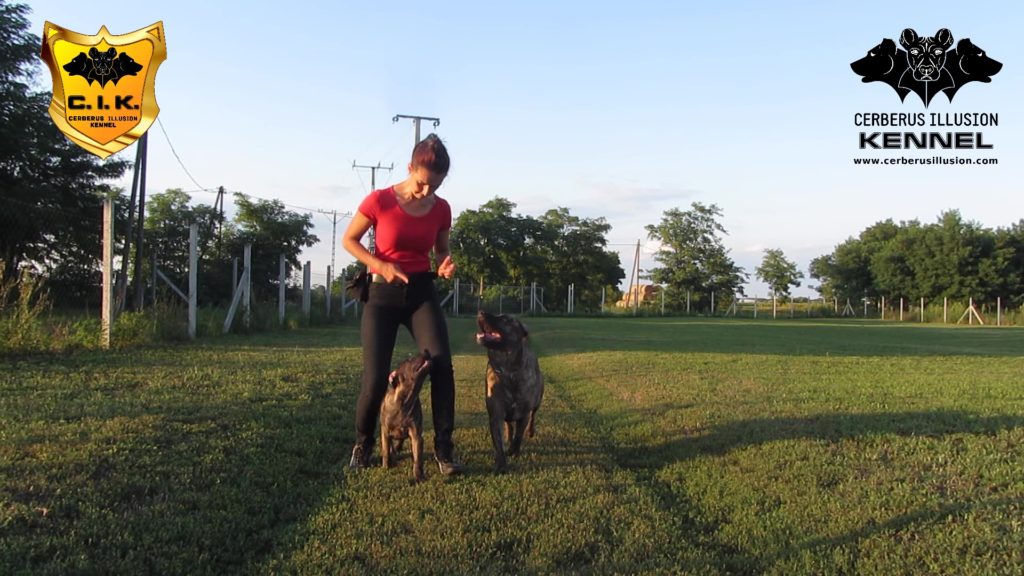 Repeat step 4 several times moving forward with your dog. Later you can do 2-3 steps, let your dog "sit" and reward after it looks up at you. Then you can increase the distance until you stop with your dog.
5/ But do this only if your dog is already automatically sitting down when you stop and looking up at you at the same time.
6/ Release your dog from the position and praise it verbally by words like "good", "clever boy", "yes" etc.
7/ Play with your dog so it has a positive feeling connected with the training.
8/ Repeat steps 3, 4, 5 and 6 a couple of times (no more than 2-3 minutes).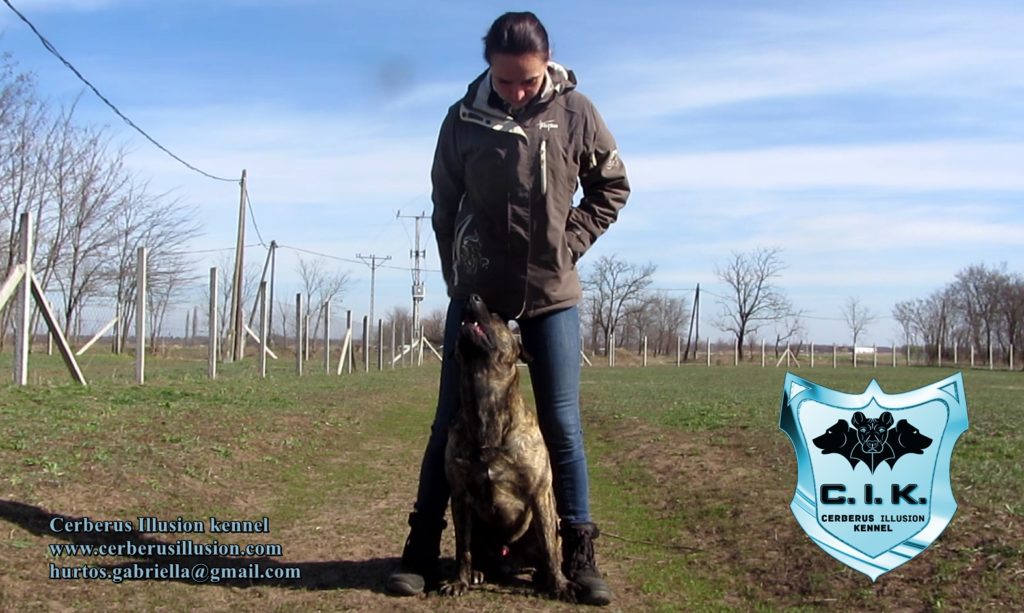 Česky
1/ Vezměte si různé drobné pamlsky (malé měkké jako např. párek, sýr, atd.).
2/ Upoutejte pozornost svého psa například zavoláním jeho jména nebo příkazem k pozornosti, jako např. "koukej".
3/ Pomocí pamlsku v levé ruce naveďte psa do sedící pozice mezi své nohy. Váš pes bude následovat pamlsek a posadí se mezi Vaše nohy. Řekněte příkaz "kukuč" a pamlskem odměňte svého psa, jakmile se posadí a naváže s Vámi oční kontakt.
4/ Řekněte povel "kukuč", držte pamlsek v levé ruce před nosem Vašeho psa a udělejte krok. Pamlsek se během tohoto používá jako návnada, takže Vás pejsek bude následovat. Řekněte povel "sedni", jakmile zastavíte. Počkejte, až s Vámi pejsek naváže oční kontakt a odměňte ho pamlskem.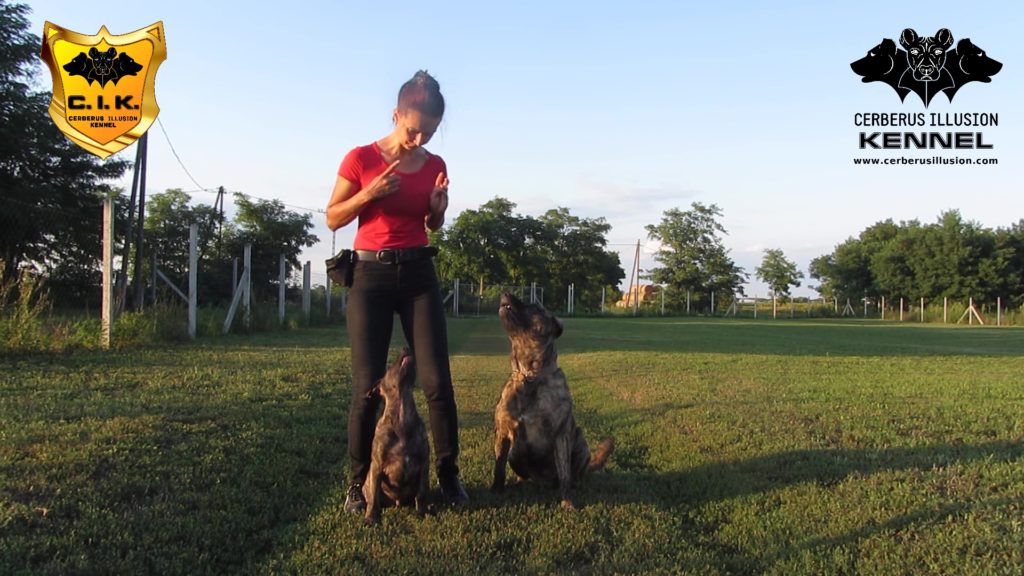 Několikrát opakujte krok 4. Později můžete udělat 2-3 kroky, nechte svého psa se posadit a odměňte ho poté, co se na Vás podívá. Pak můžete prodlužovat vzdálenost, po které se zastavíte.
5/ Ovšem, vzdálenost začnete prodlužovat pouze tehdy, pokud se Váš pes již automaticky posadí, když se zastavíte a zároveň se na Vás podívá.
6/ Uvolněte svého psa z pozice a pochvalte ho slovně (šikulko, super, a pod.).
7/ Hrajte se s pejskem, aby mělo pozitivní pocit spojený s tréninkem.
8/ Několikrát (ne více než 2-3 minuty) opakujte kroky 3, 4, 5 a 6.