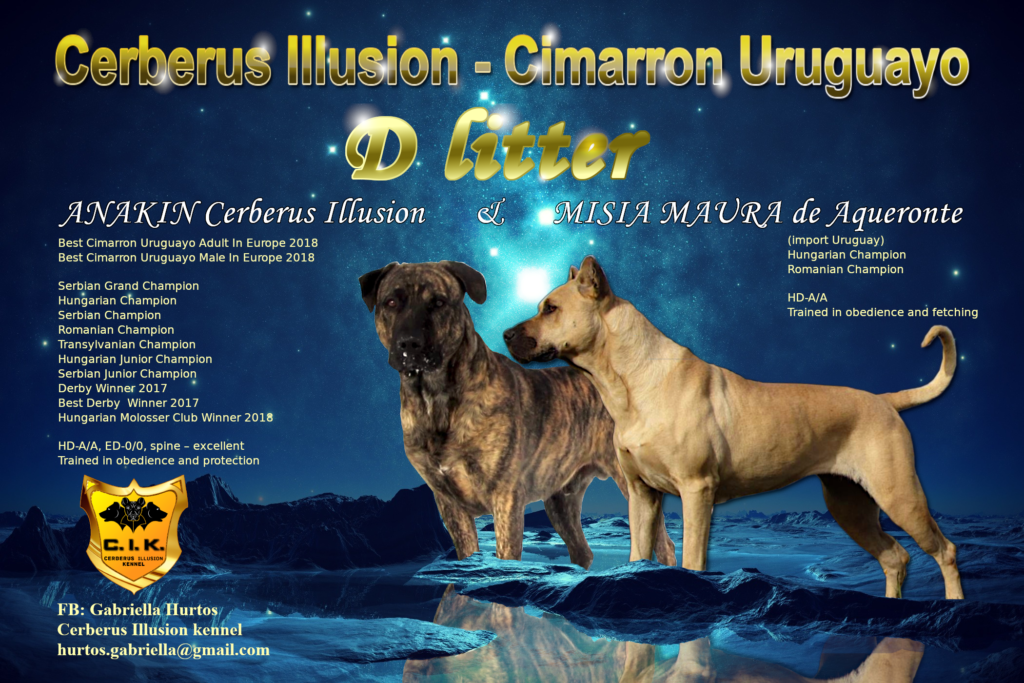 Within D litter we expect puppies for show, work, various kind of dog sports and breeding. At the same time, both parents have lovely character and are fantastic family dogs. They love to be close to their owner and they like cuddling. Due to this, their puppies should inherit this as well. Both parents are working – both are trained in obedience. Anakin is already the second generation of Cimarron Uruguayo dogs raised in Cerberus Illusion kennel. He loves also doing protection. Both dogs guard our property, where no uninvited person dares to enter.
Puppies born on 1st May 2019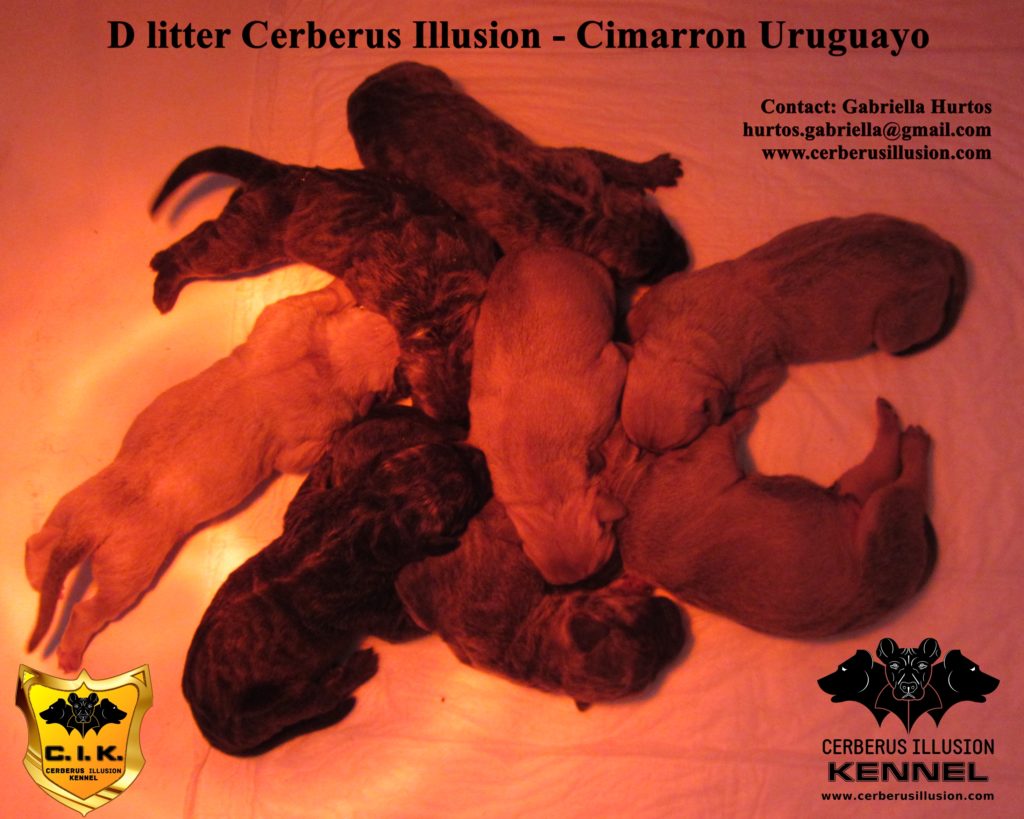 Cerberus Illusion has unique litters
At Cerberus Illusion, we do not repeat litters! Each litter is unique. Our males are not mating huge masses of foreign females. I prefer using my males only at home. So their bloodline is available only via their puppies. This makes our puppies really valuable also for breeding. At the rare dog breeds (like Cimarron Uruguayo is too), the large and diverse gene pool is very important. This is one of the reasons, why I do not repeat litters. As I do not breed for money, I do not need to produce one litter after another with the same female!
Is this breed suitable for you?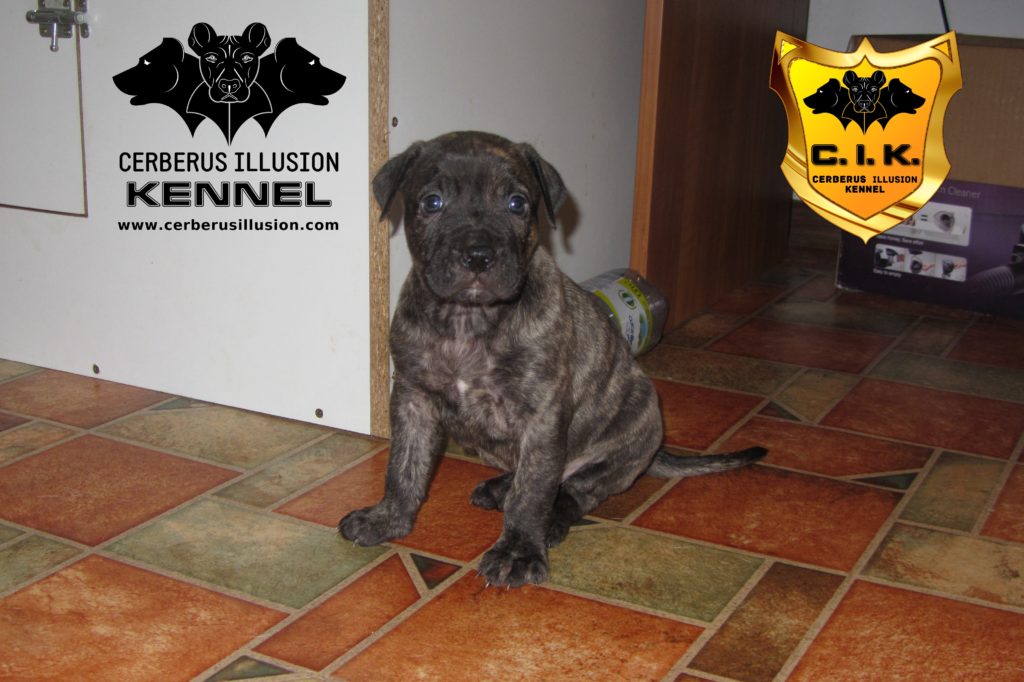 Are you interested in one of our Cimarron Uruguayo puppies, but you are not sure whether this breed is for you? You have read plenty of misleading information about this breed? Did you hear they are too active and need plenty of space? Thus you think they can live only on a big farm? Or you have read they are aggressive and will eat you 🙂 This information are ALL FALSE! Feel free to read our article about Cimarron Uruguayo. Shortly, Cimarron Uruguayo is suitable for plenty of different people with different lifestyles. You just need a breeder, who will offer you the puppy, which suits you and your family.
What puppy do you prefer?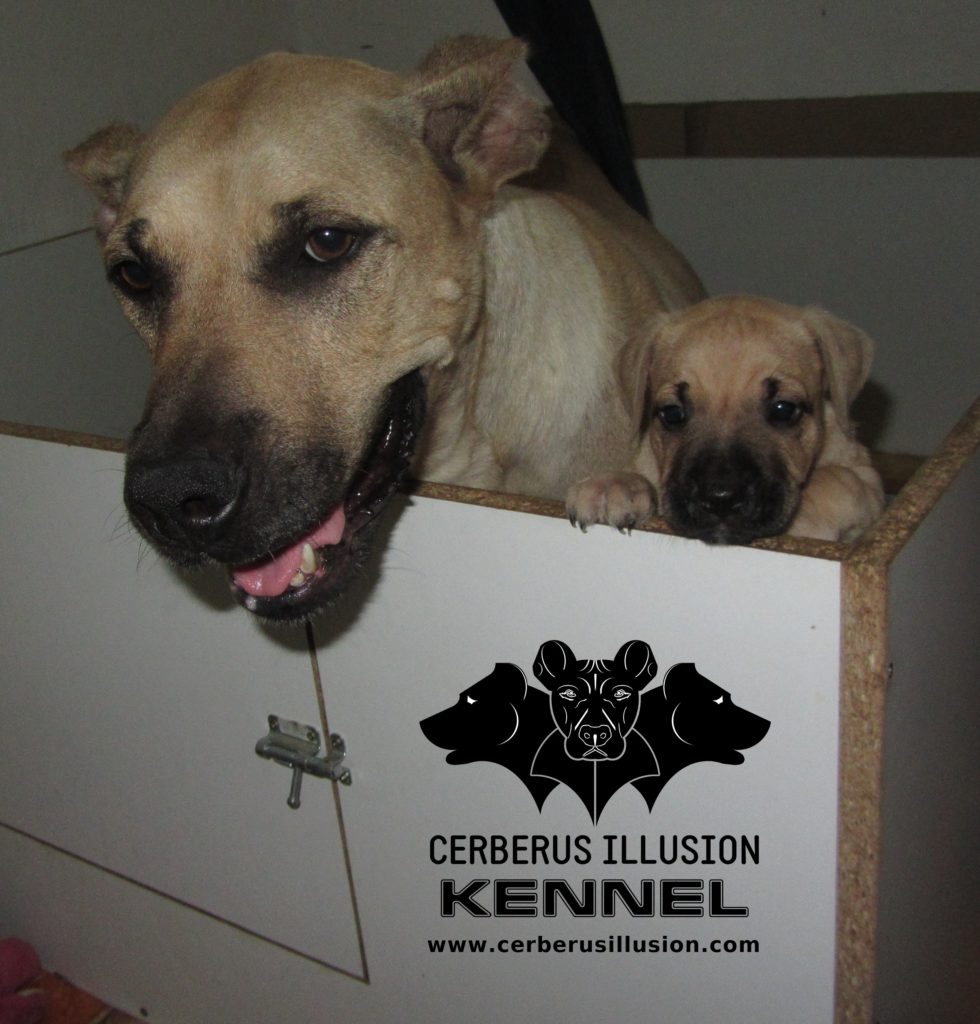 As a breeder, who is working with whole litters of puppies, I always choose only the perfect puppy for each future puppy owner. If there is not a perfect puppy for someone, I do not offer another puppy just to sell it. I rather recommend another breeder, who has puppies at the same time. So be prepared for plenty of question so as I can know you and your family, as well as the conditions where the puppy will live. If you will ask for a puppy for show and breeding, be prepared that I will offer you only such a puppy, which I would keep by myself. I send only the best puppies for show and breeding, where the anatomy, movement and character must be all beautiful.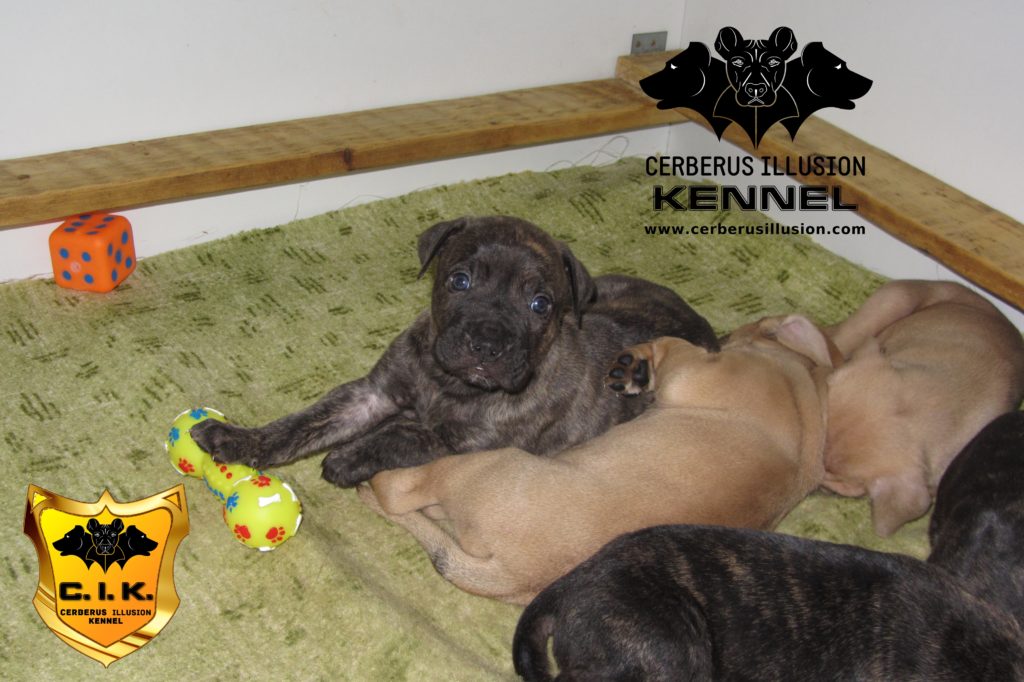 If you want a puppy for a certain kind of dog sport or work, I will offer you only a puppy, which will be suitable for it. Our puppies are carefully watched and tested. This enables me to recognize, which puppy is talented in what field. Finally, each of us prefers another kind of character at our dogs. The character of each dog at all dog breeds is as unique as the character of every single person. A hyperactive person always in the movement will not be happy with a lazy dog which will prefer lying on the sofa and being cuddled.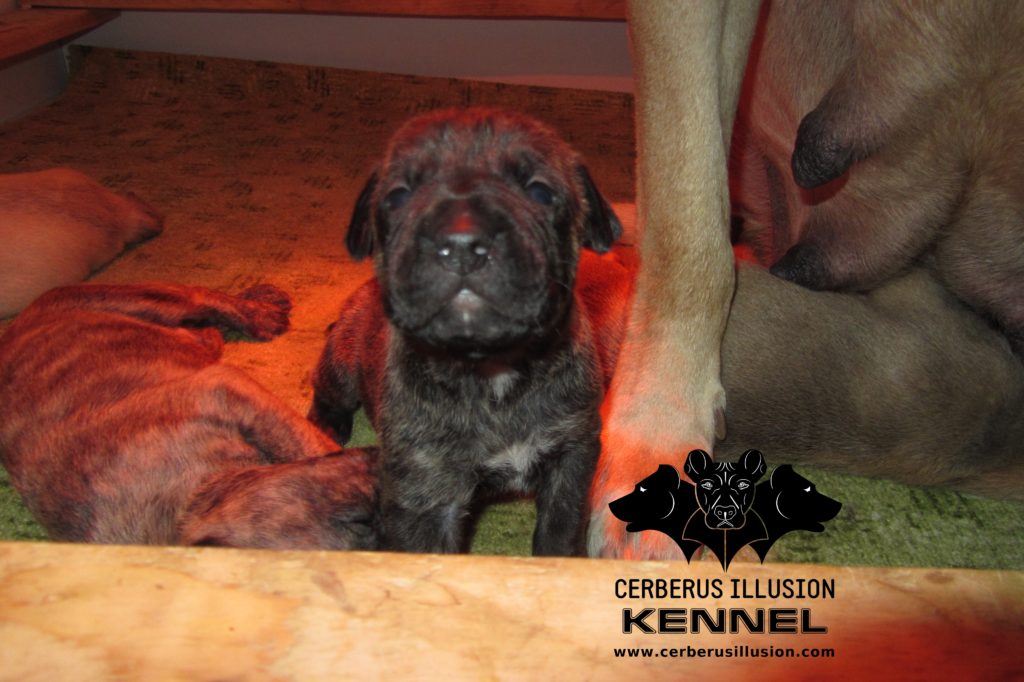 It is the same if you want only a family dog. I will want to know whether there is another dog or other animal in your family or whether you have children. This is important because I send calmer puppies into families with small children. If you have another dog, I will offer you a submissive, non-conflict puppy to get along well with your previous dog.
Sire of D litter: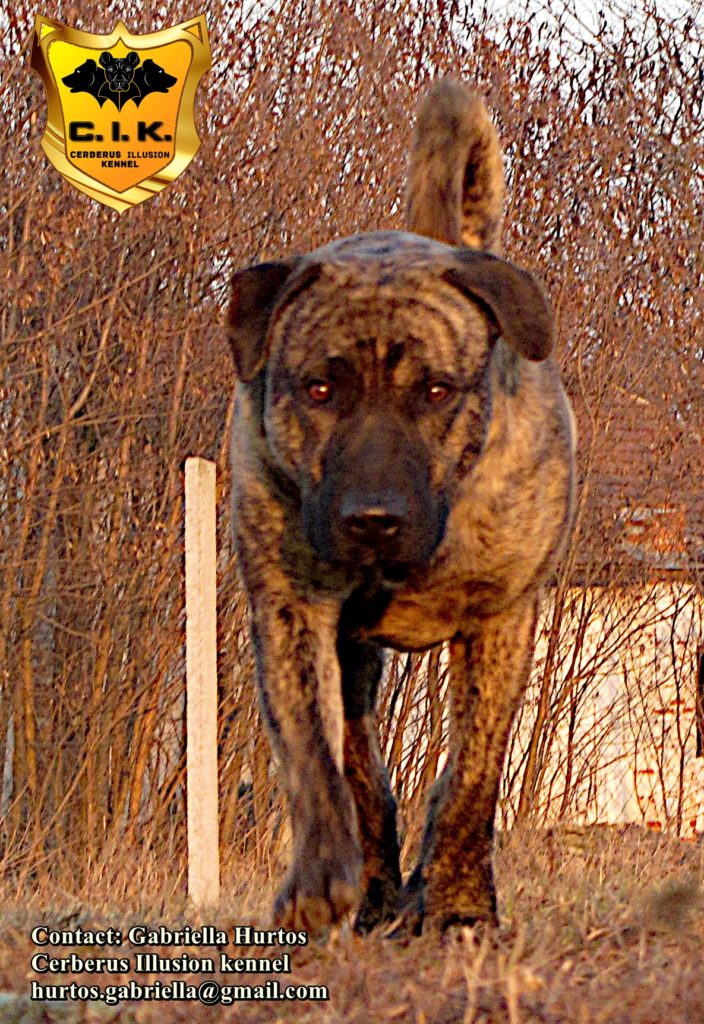 Best Cimarron Uruguayo Adult In Europe
Best Cimarron Uruguayo Male In Europe
(Ranking 2018)
Serbian Grand Champion
Hungarian Champion
Serbian Champion
Romanian Champion
Transylvanian Champion
Hungarian Junior Champion
Serbian Junior Champion
Derby Winner 2017
Best Derby Winner 2017
Hungarian Molosser Club Winner 2018

HD-A/A, ED-0/0 (free of hip and elbow dysplasia), spine – excellent
Trained in obedience and protection
Dam of D litter: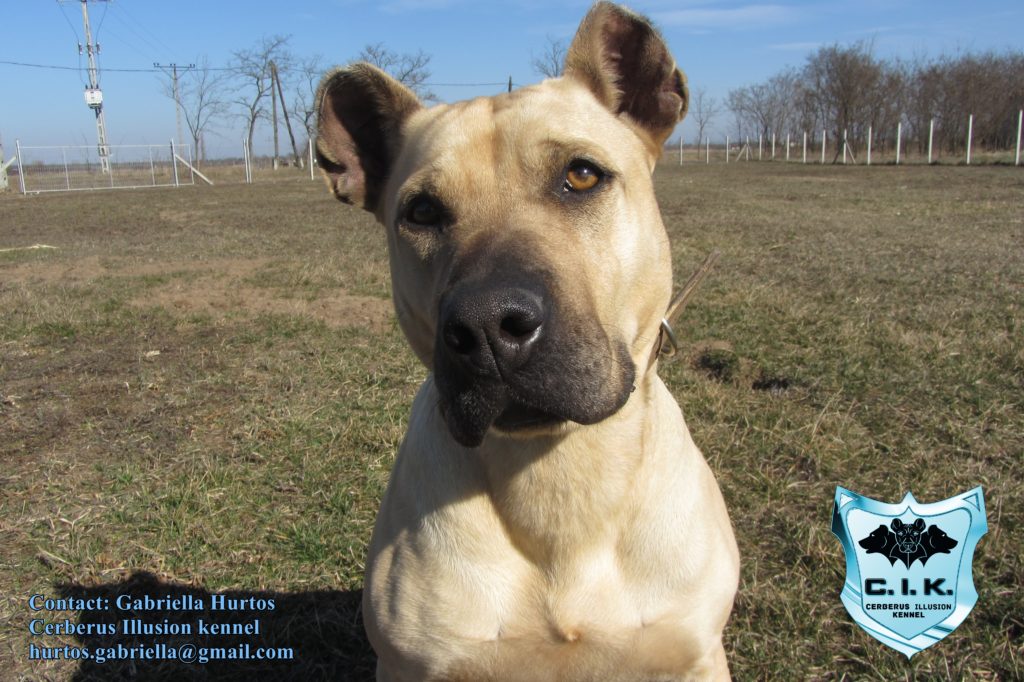 MISIA MAURA de Aqueronte
(import Uruguay)
Hungarian Champion
Romanian Champion
HD-A/A – (free of hip dysplasia – 5th generation of dogs with only HD-A in pedigree!!!)
Trained in obedience and fetching