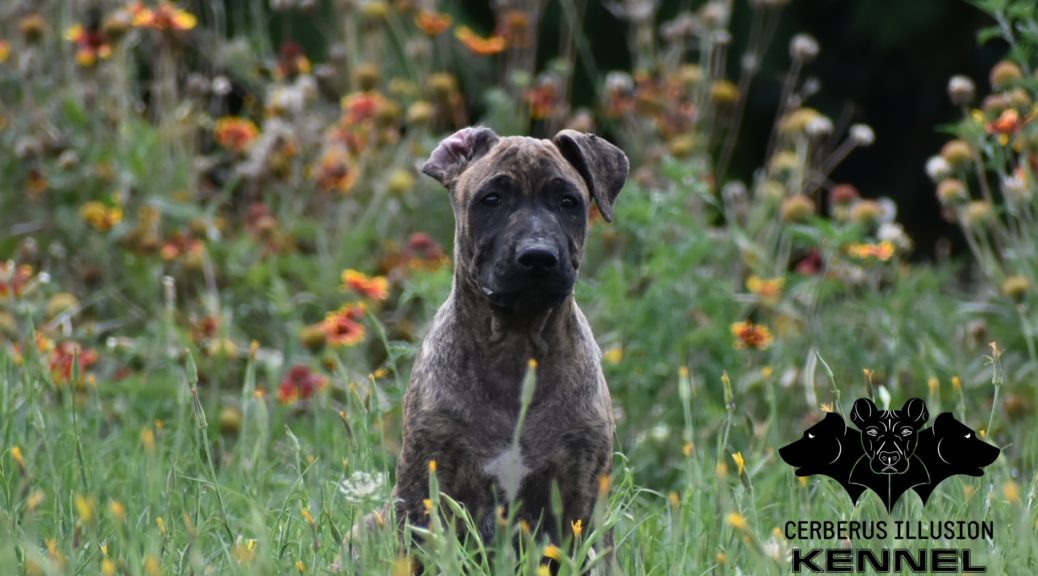 Dogs for sale
Dogs for sale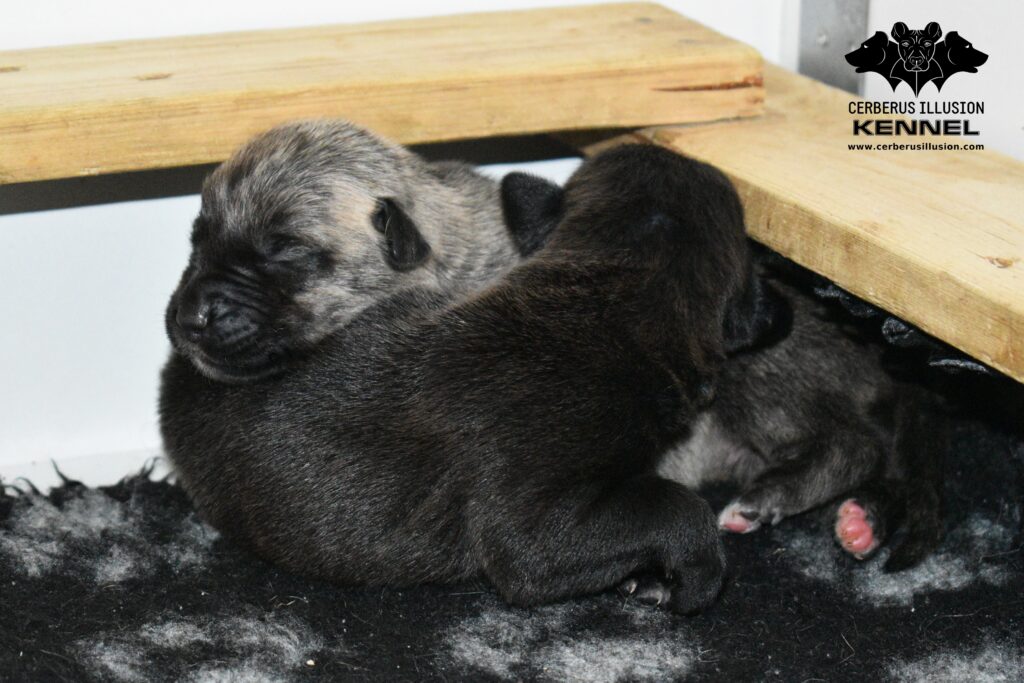 Cerberus Illusion is not only the best, but also the biggest Cimarron Uruguayo kennel in Europe. If you are searching for dogs for sale, you are lucky at this moment. Puppies are available NOW at our kennel. We do not produce one litter after another. Each litter is unique and carefully planned! We do not repeat litters, but this might change in the future in the case of really small litters. Puppies are planned, if there is enough serious future puppy owners waiting for each newborn puppy. Our waiting list is ALWAYS OPEN.
Currently available dogs for sale
We accept reservations for J litter planned for 2024. We will offer strictly limited number of puppies for show and breeding to keep our line rare and unique!
I select the owners for my dogs very carefully. Moreover, I only offer the best puppy for everybody. If you are an active person always in move, I will not offer you a calm lazy pup. I will rather tell you, unfortunately, I do not have any suitable puppy for you now. It is the same if you want a puppy for hunting, searching, protection, therapy, obedience etc. All puppies are tested and watched to find out their potential really soon.
What to do if you would like to get a puppy
If you would like to have a puppy or even adult dog from me, please, follow the next steps:
Be so kind and write me about yourself and your family. Whether there are children or pets in your family.
What is your hobby – what do you do in your free time (horse riding, walking, watching TV, etc.)
What purpose would you like to have your Cimarron Uruguayo dog? For example for dog shows, breeding, dog sport, guarding, protection, hunting, as family dog, etc.
What character would you prefer at your dog?
Where will the dog live – in a city/village, in the house/flat/outside in a dog house?
What experience do you have with dogs?
Answers for all these questions will help me to offer you ONLY the dog, which will really suit to you! There are no bad or good answers!
Ours previous dog & puppies:
FATIMA Cerberus Illusion – health tested young female with 6 working titles AVAILABLE FOR SALE
Hip dysplasia: free – HD-A/A
Elbow dysplasia: free – ED-0/0
Spine: Excellent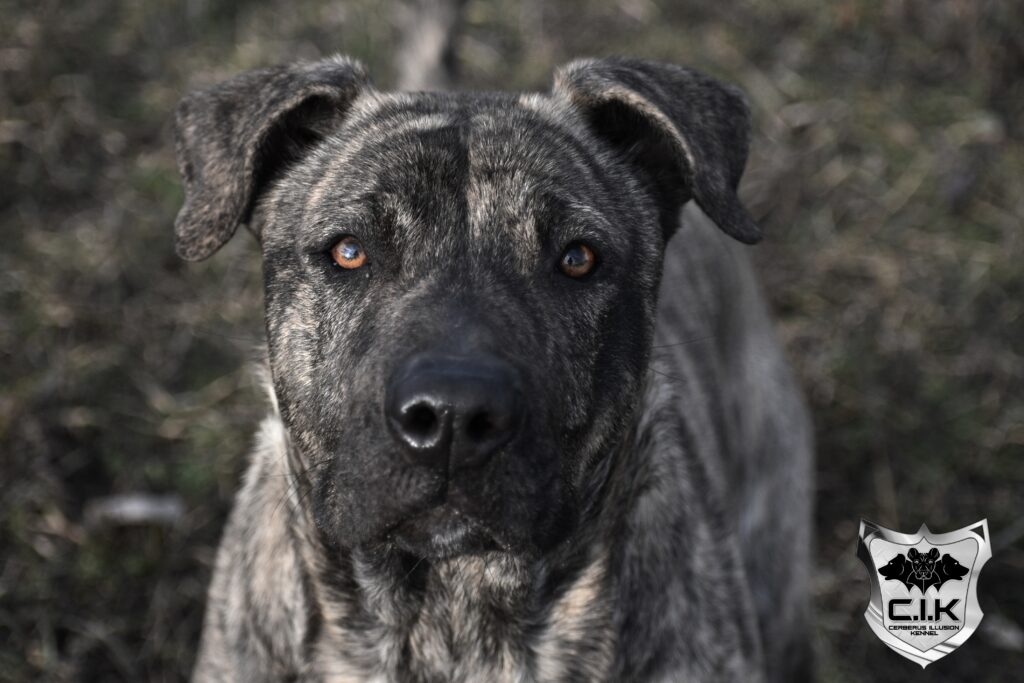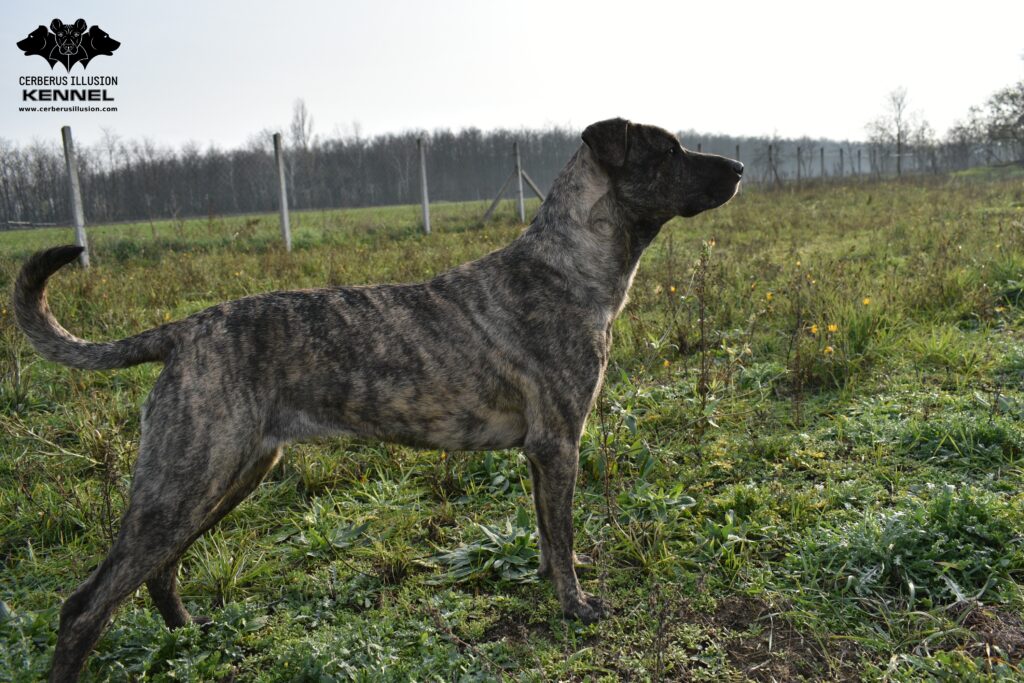 ISABEL Cerberus Illusion – TOP Uruguayan Cimarron puppy for sale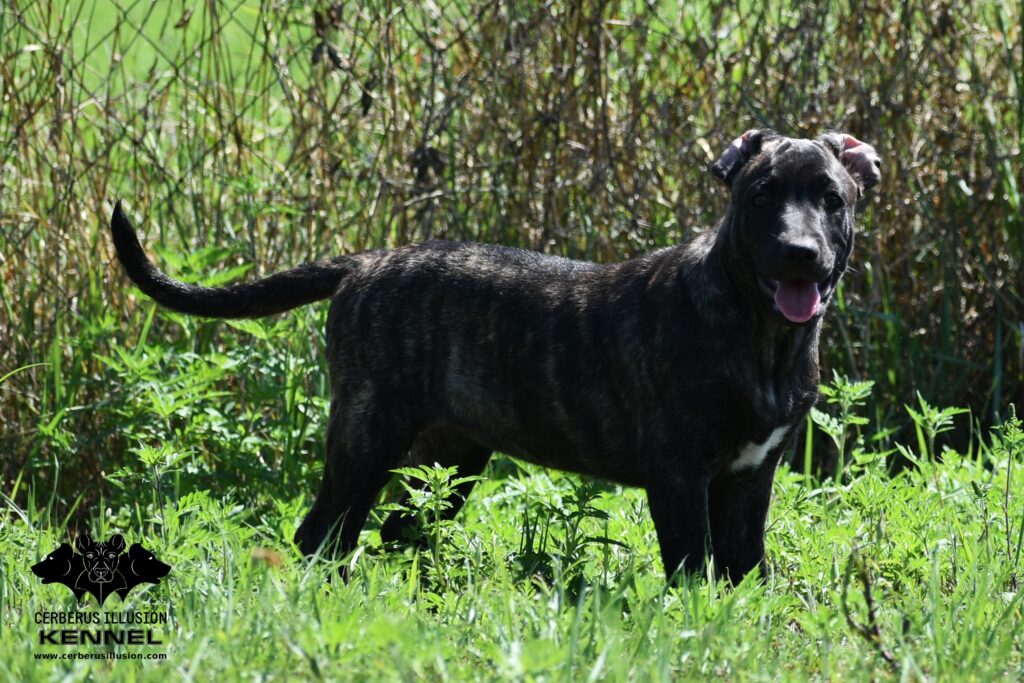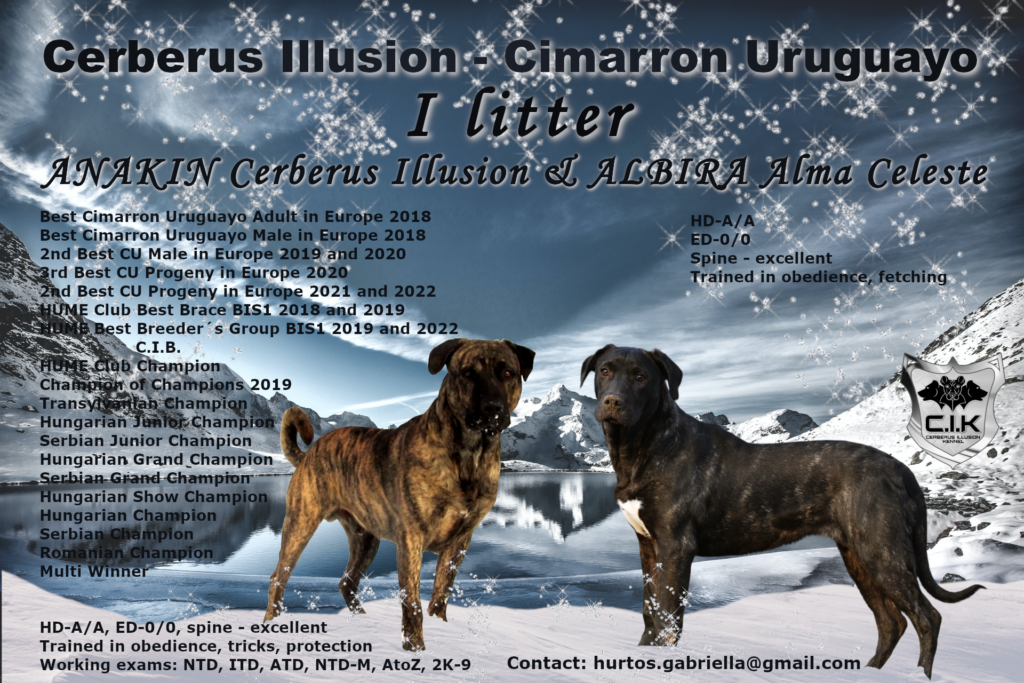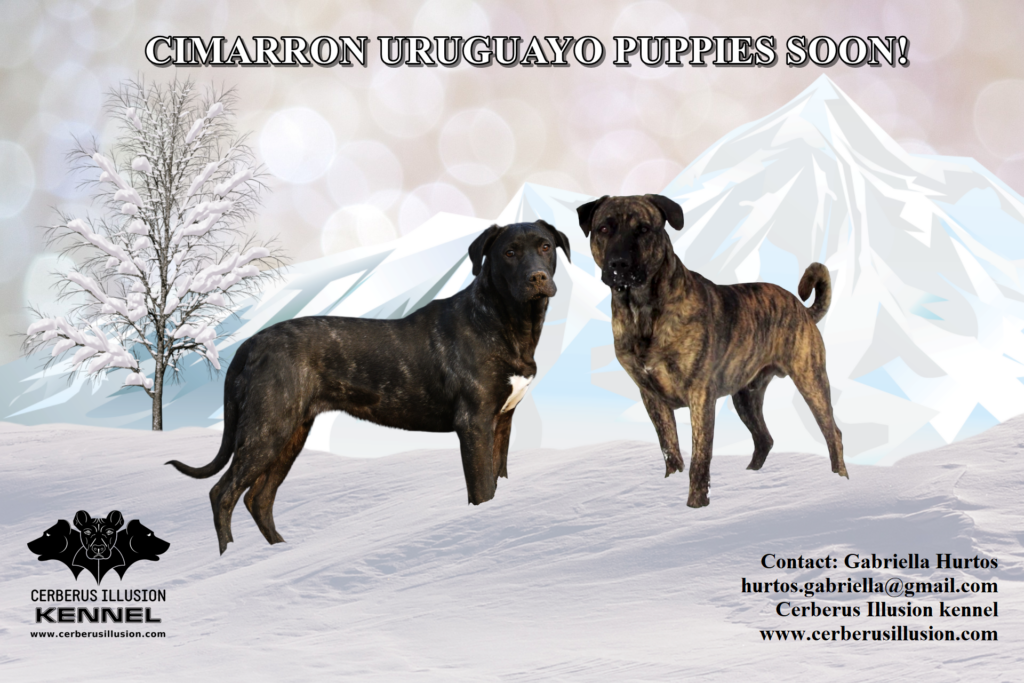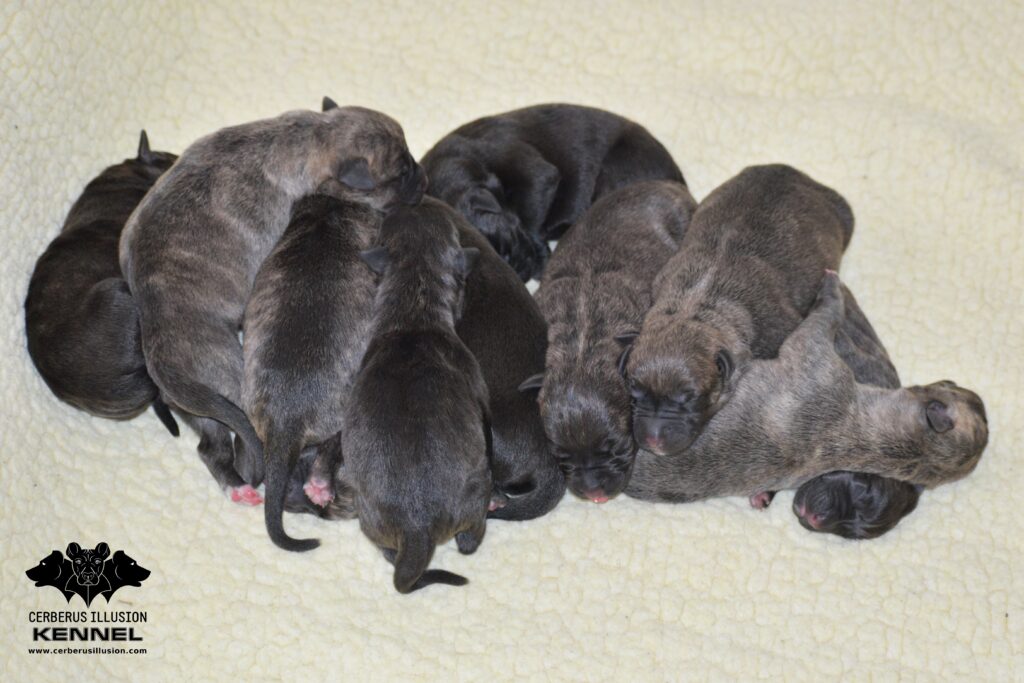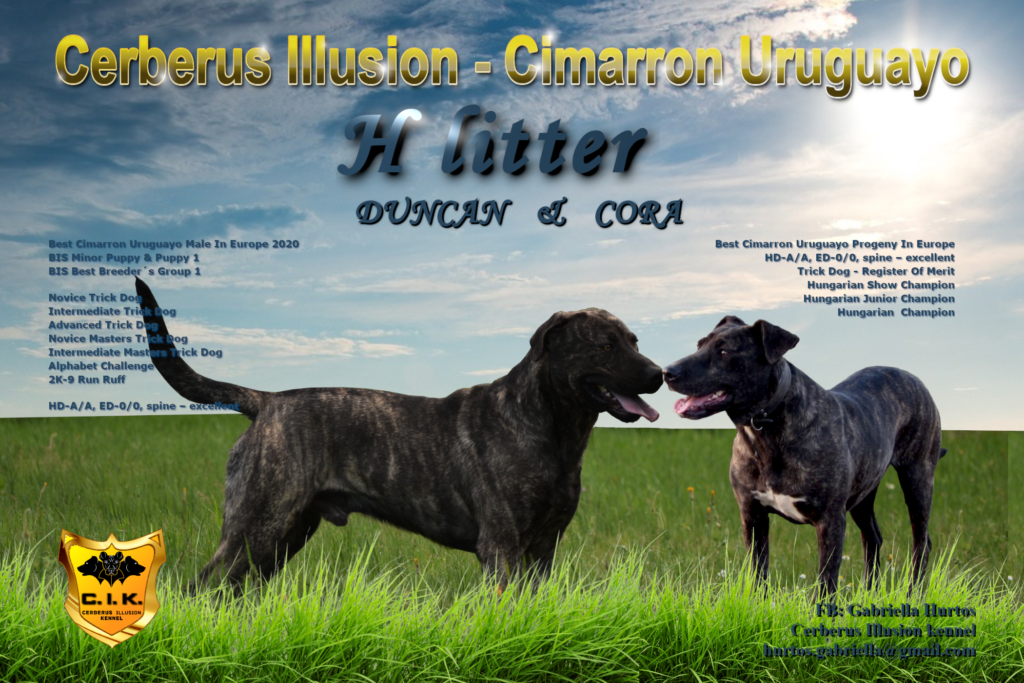 FATIMA Cerberus Illusion NTD ITD ATD NTD-M ITD-M AtoZ – NO MORE AVAILABLE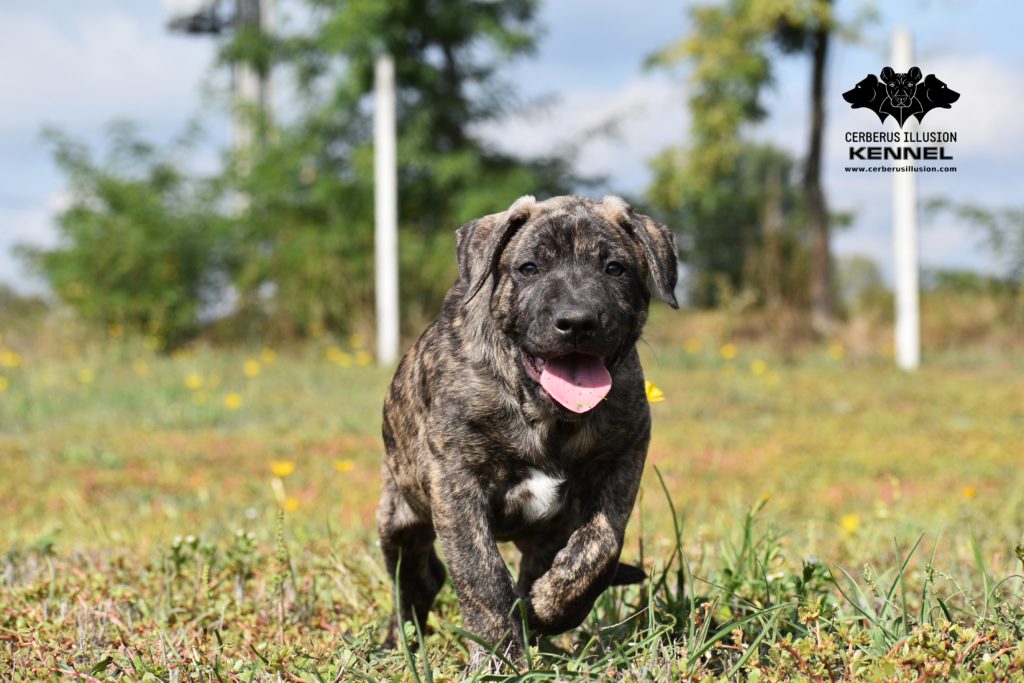 This little girl is a beautiful pre-trained working puppy with extraordinary loving character. She is the FIRST PRE-TRAINED PUPPY with 6 working titles at the age of 3 months, which is available for sale from Cerberus Illusion kennel. A little genius after her father DUNCAN and grandfather ANAKIN. She passed her FIRST working exam at the age of 2 months and 5 higher levels at the age of 3 months! Fatima is trained in tricks, obedience, tracking and protection.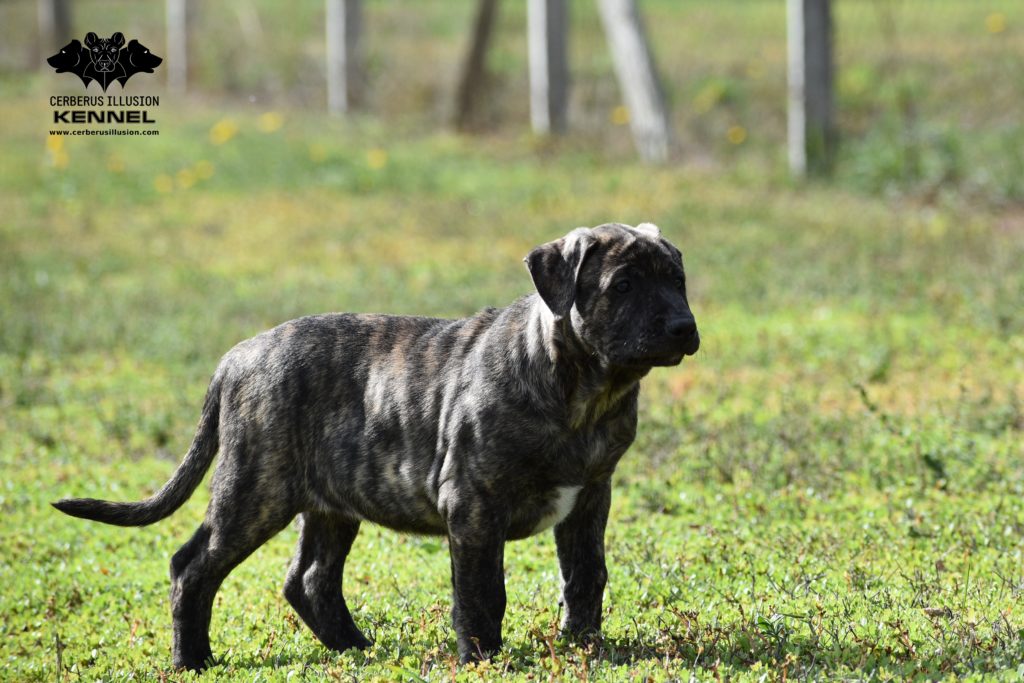 Fatima is the 4th generation of my working Cimarron Uruguayo dogs. It is incredible how fast she is learning and how eager she is to do anything I ask from her! The working ability of our dogs is getting better generation by generation and I am really proud of this, as it is plenty of time and hard work to work with EACH Cimarron I have at home so they can produce better working puppies!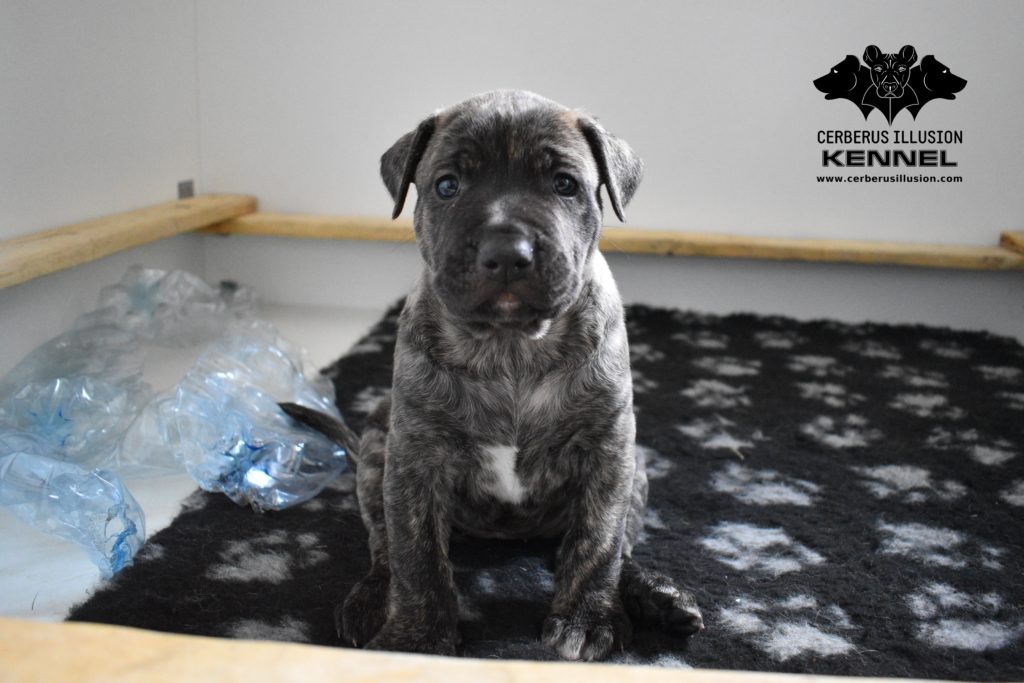 Fatima is a very lucky playful puppy, ready to cuddle anytime. She enjoys any activity with her owner, she loves playing, walking in the town, training and she behaves very nice with other dogs. She is used to live inside and can stay outside alone as well without doing any trouble in the garden. This puppy is used to dog crate where she loves to sleep, but at the same time she enjoy sleeping in my bed as well. She loves travelling by car and visiting new places. She is wagging her tail all the time.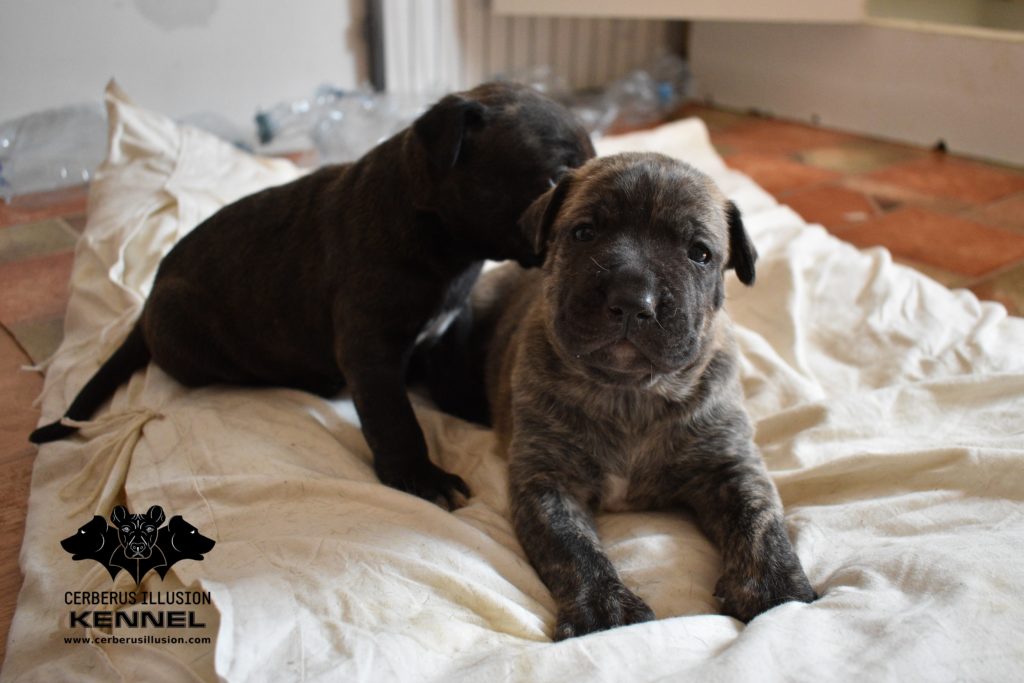 Her most favorite activity is solo football with any ball she gets. Her second most favorite activity is search of treats, especially in sniffing matt or sniffing ball.
💥 Extraordinary F litter in Cerberus Illusion kennel
🔥 Both parents are HD – A/A, ED – 0/0 with excellent spine!
🔥 Both parents are working (obedience, protection, tracking, tricks)
❤ Excellent working puppies with great show potential!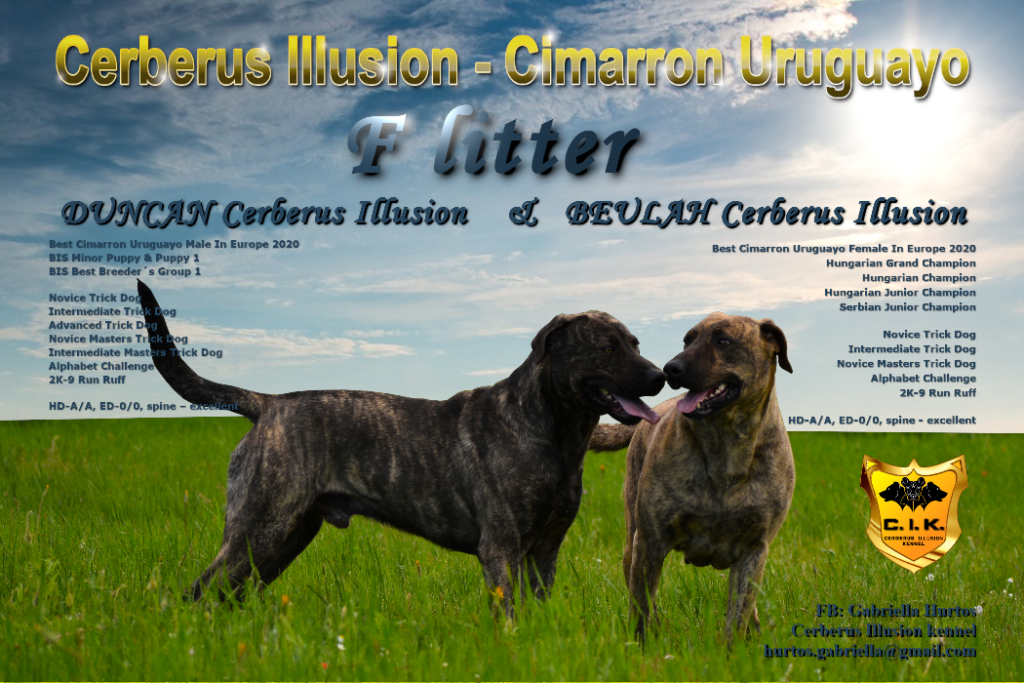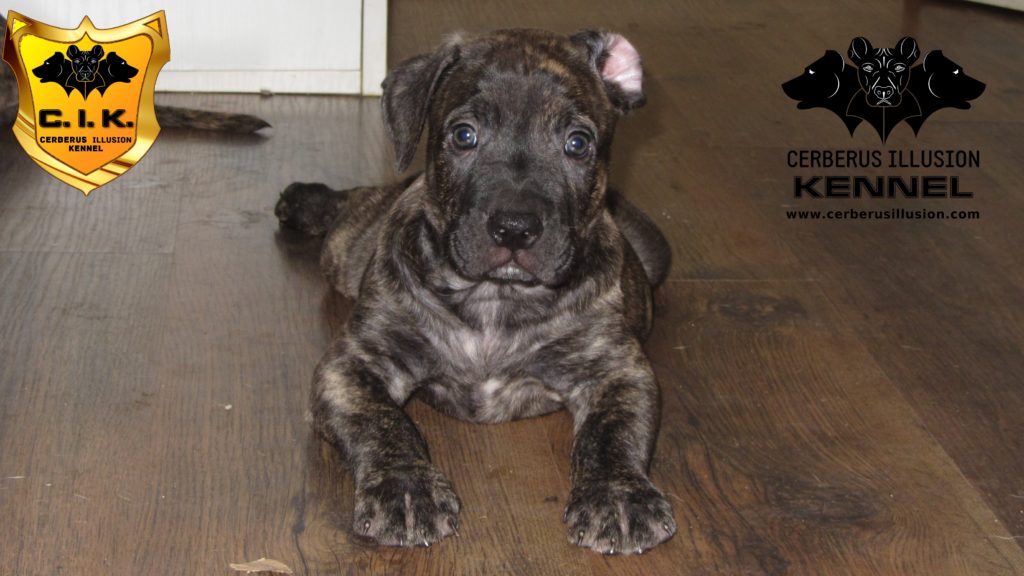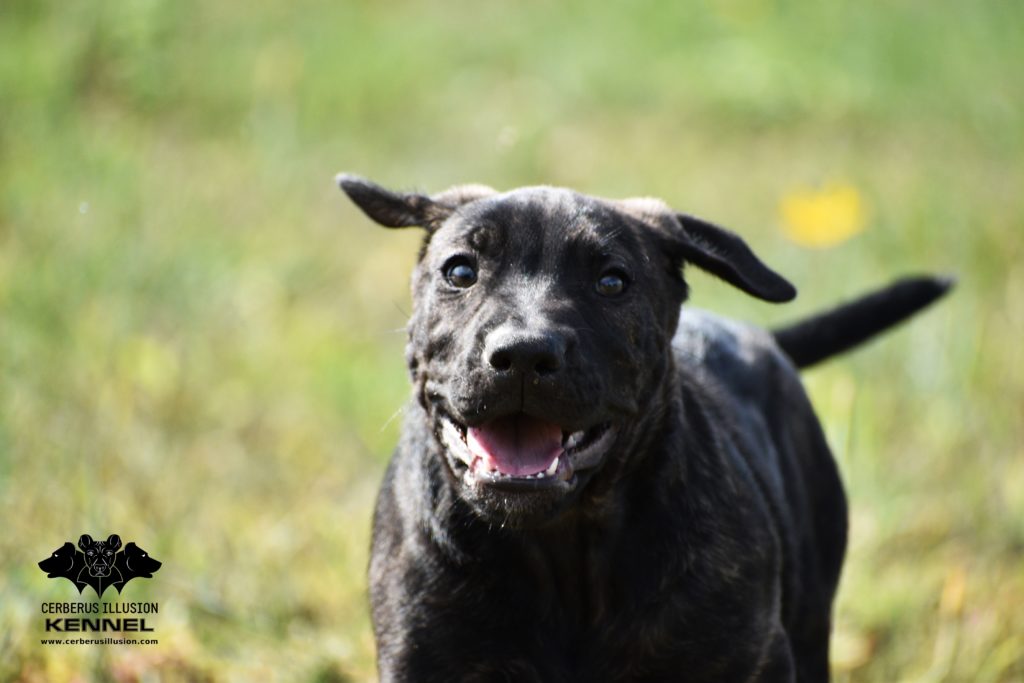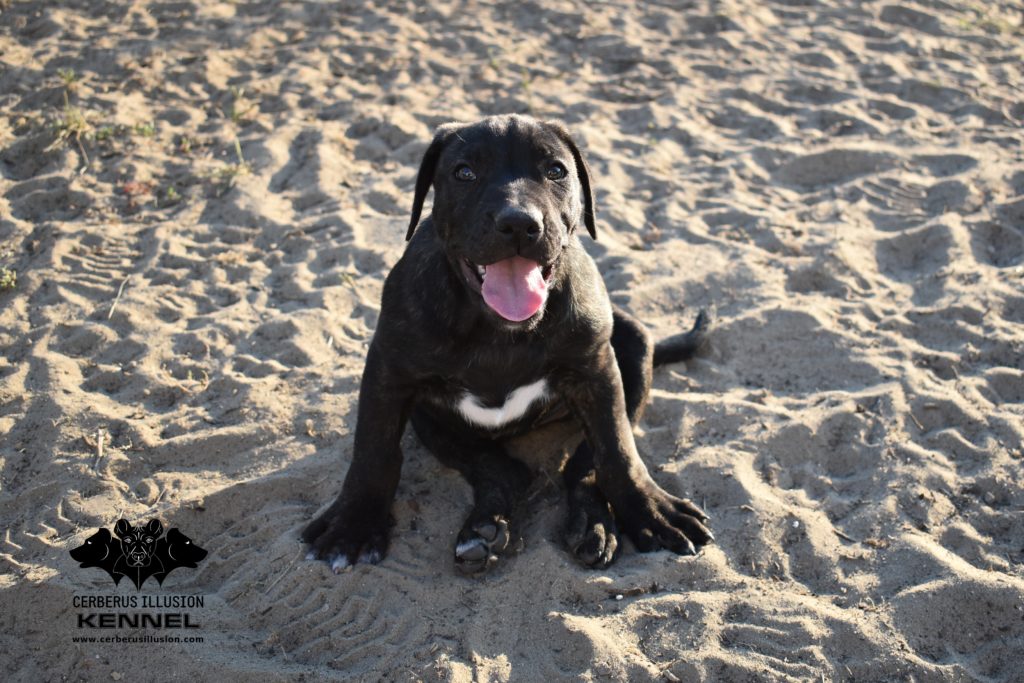 This cute little girl is a show & work prospect female puppy with beautiful head, correct anatomy, wonderful movement and correct bite! She is suitable not only for show or as a wonderful family member, but also for working purposes and dog sports. She has already started basic obedience training, tracking and she is also suitable for protection training!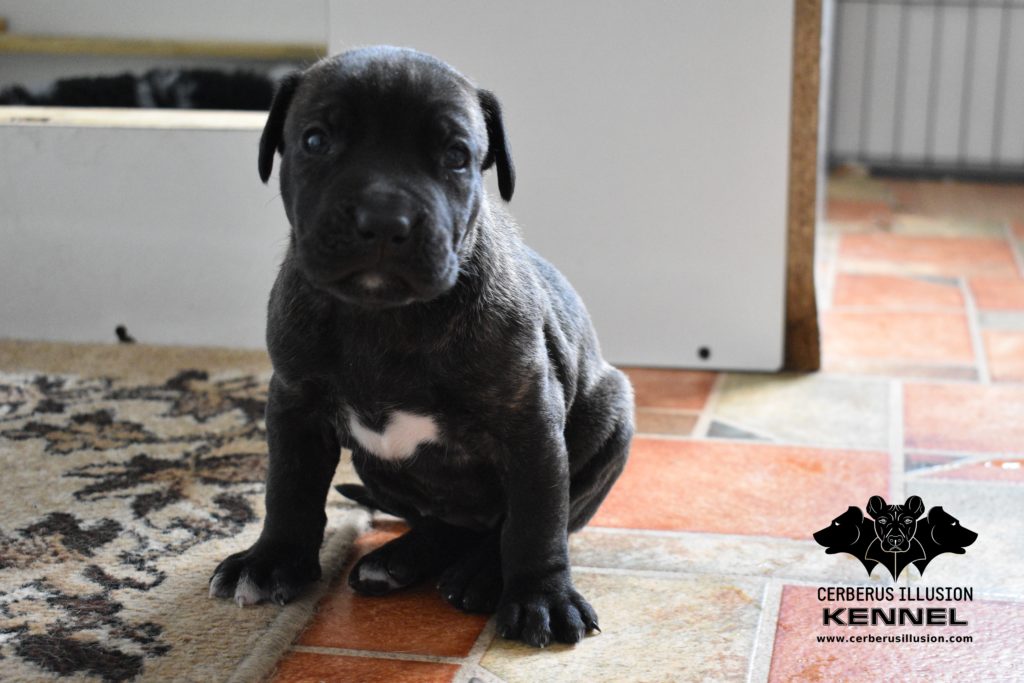 The character of Freya is just wonderful. She loves to play with different toys as well as with her sister, mother, and younger puppies from our G litter. Freya loves all foreign people very much – she wants to cuddle with them while she is wagging her tail all the time! She is full of positive energy, making us smile all the day. More information about Freya can be found here.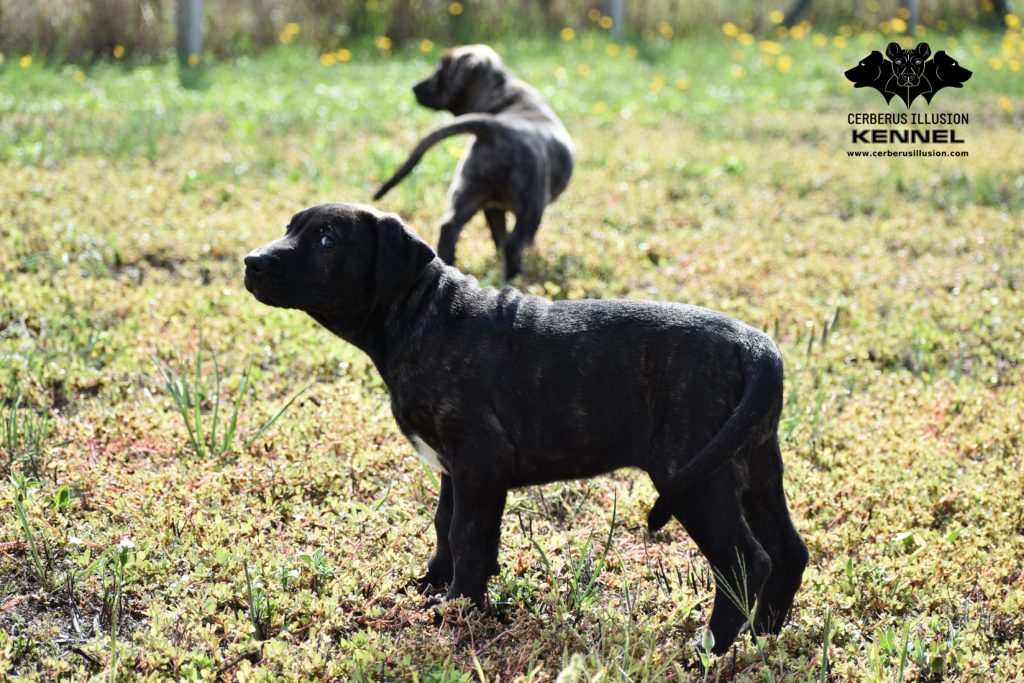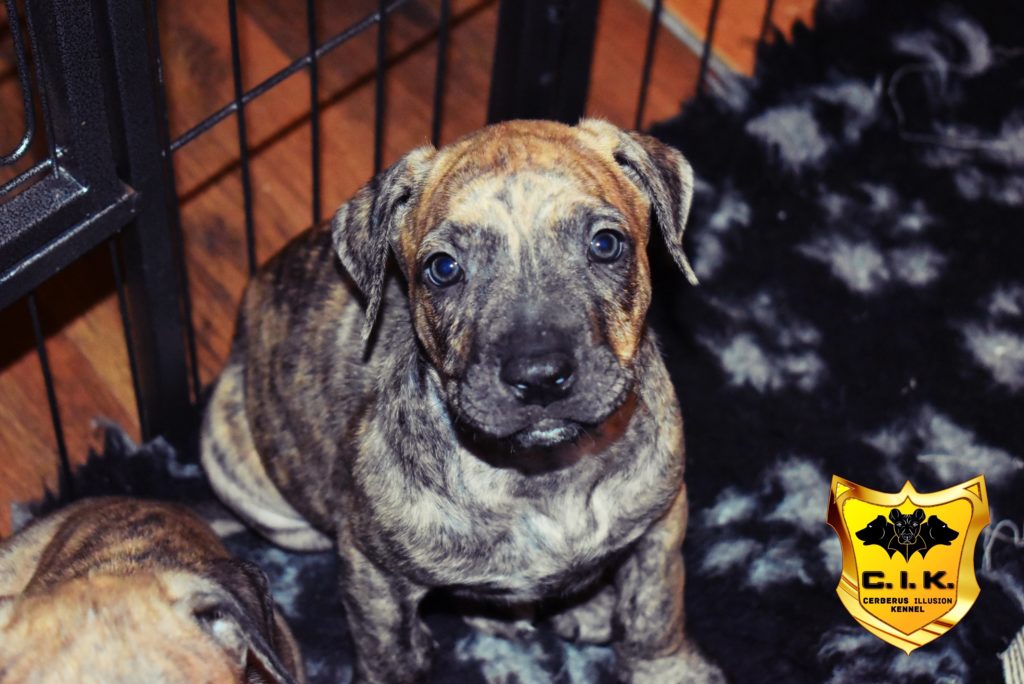 ENEKIN Cerberus Illusion born 19th October 2020.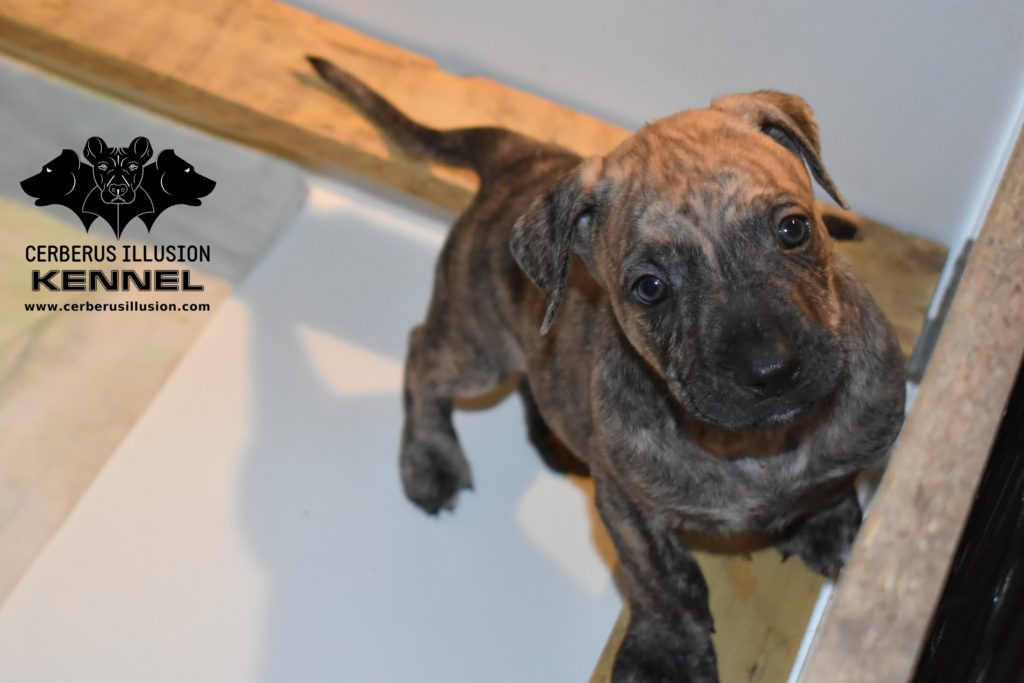 This puppy got his name after my Anakin as he has the same wonderful character! Enekin is a calm clever puppy, he is very attentive and loves to watch us and learn. Since the first moment I took him out, he understood that his place is next to his owner – he is my shadow! I have enough Cimarrons to say – this behavior is really characteristic for this breed and it let you feel really special. With such a dog by your side you feel as the most important person in the world – at least in the eyes of your 4-legged friend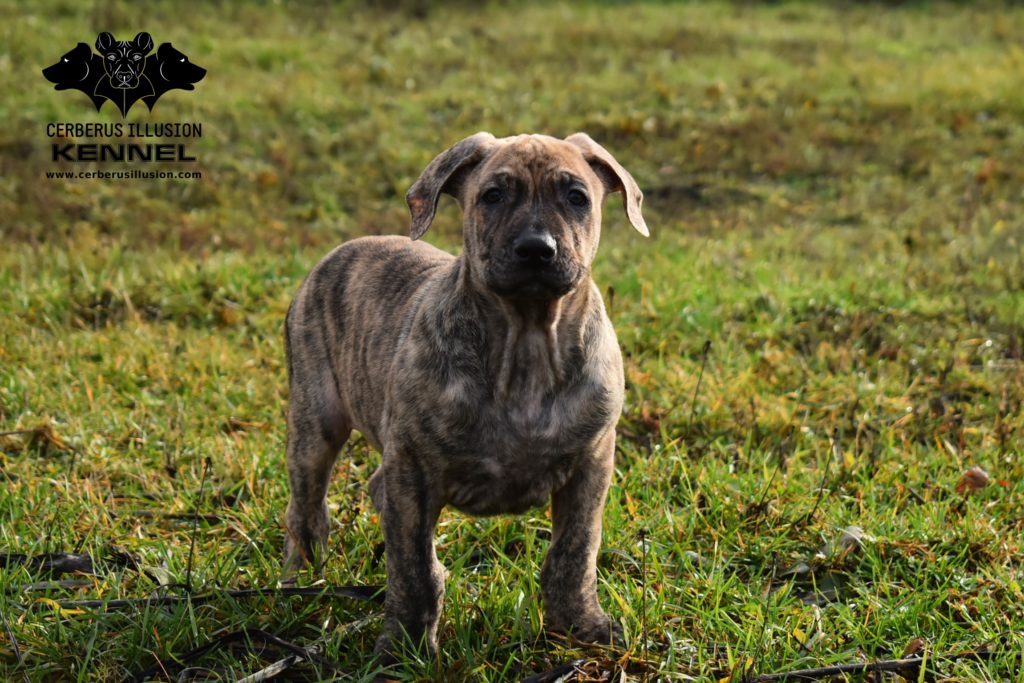 Enekin will be ready to watch each your wish and make you happy every single day! He has really special character and for his family he will be as the jackpot in the lottery! He will become a ONE IN A LIFETIME DOG for his owner.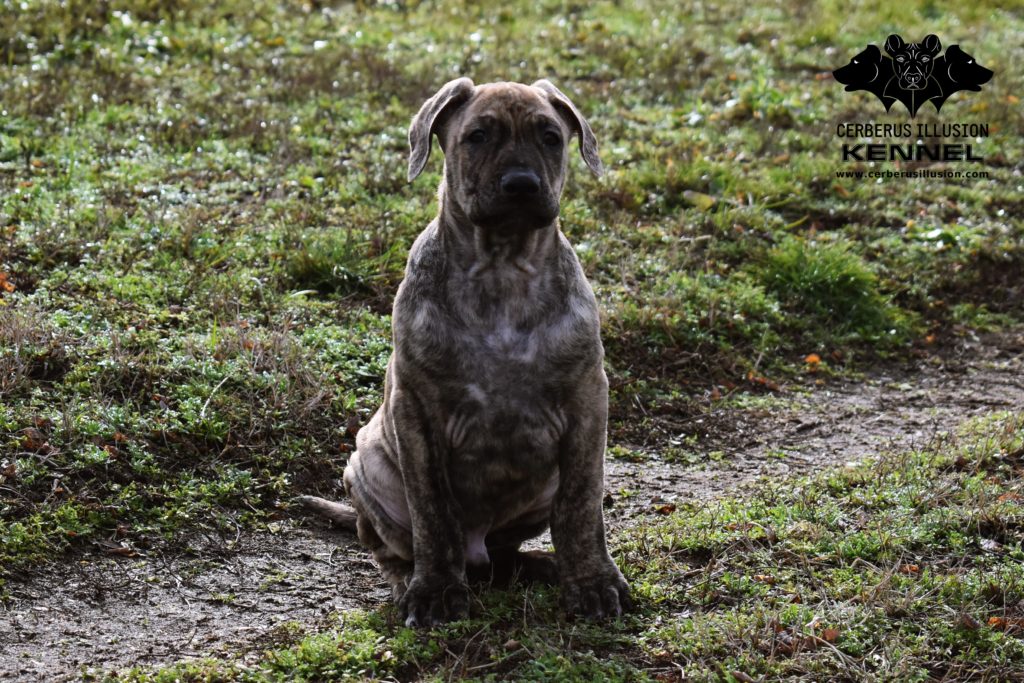 Feel free to contact me if you think that you would be the best family for this special puppy and he could be your dream dog. Contact: hurtos.gabriella (at) gmail.com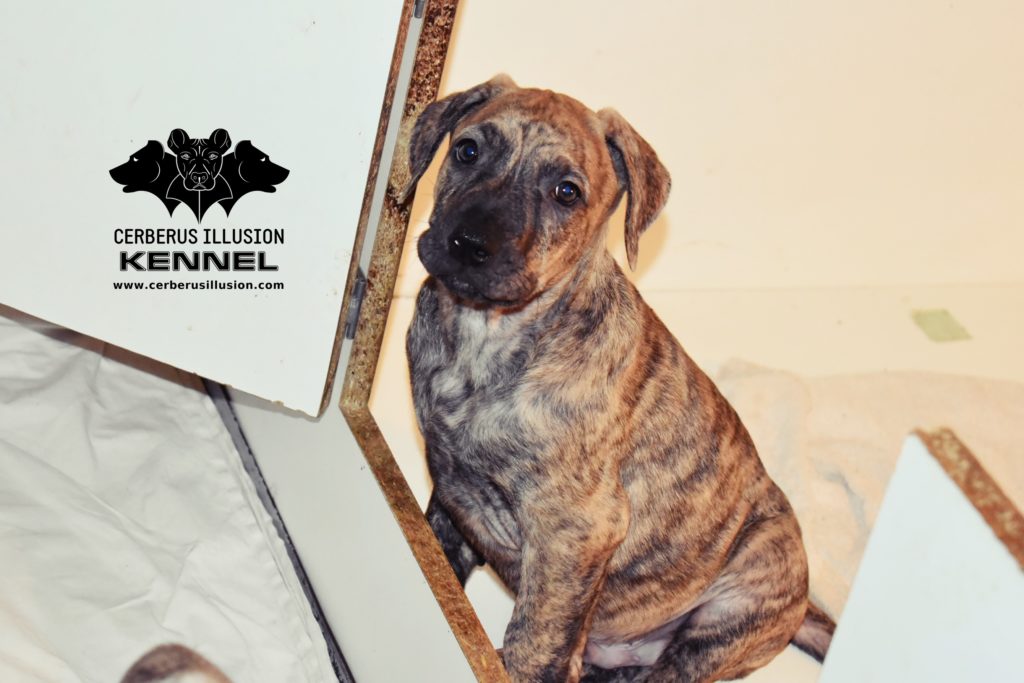 You can find more information about his parents here.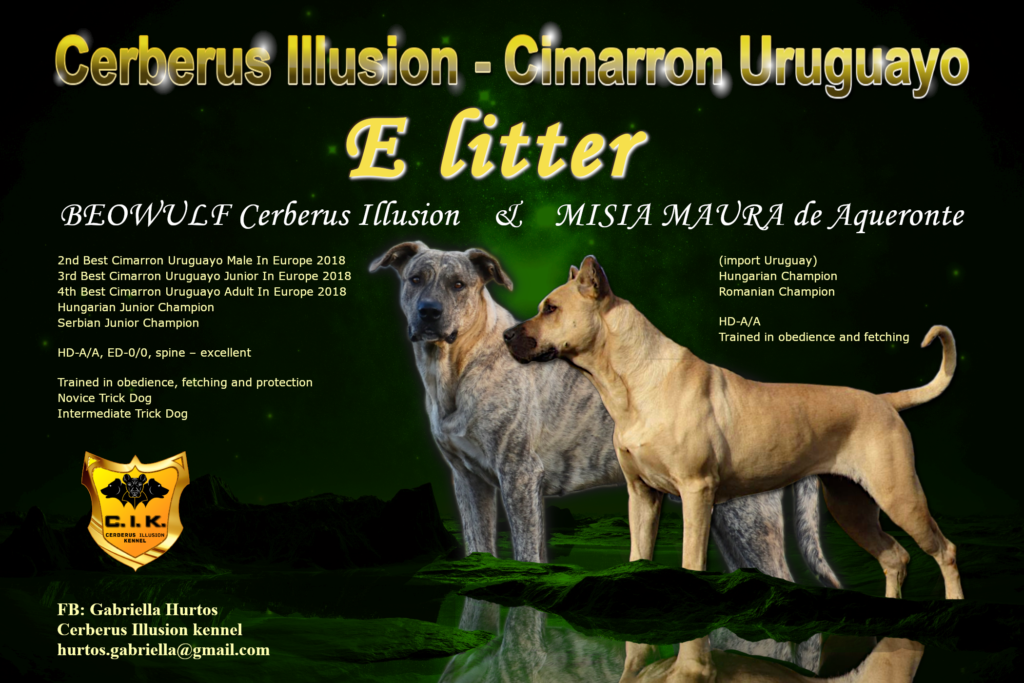 DARIUS Cerberus Illusion born 1st May 2019 – SOLD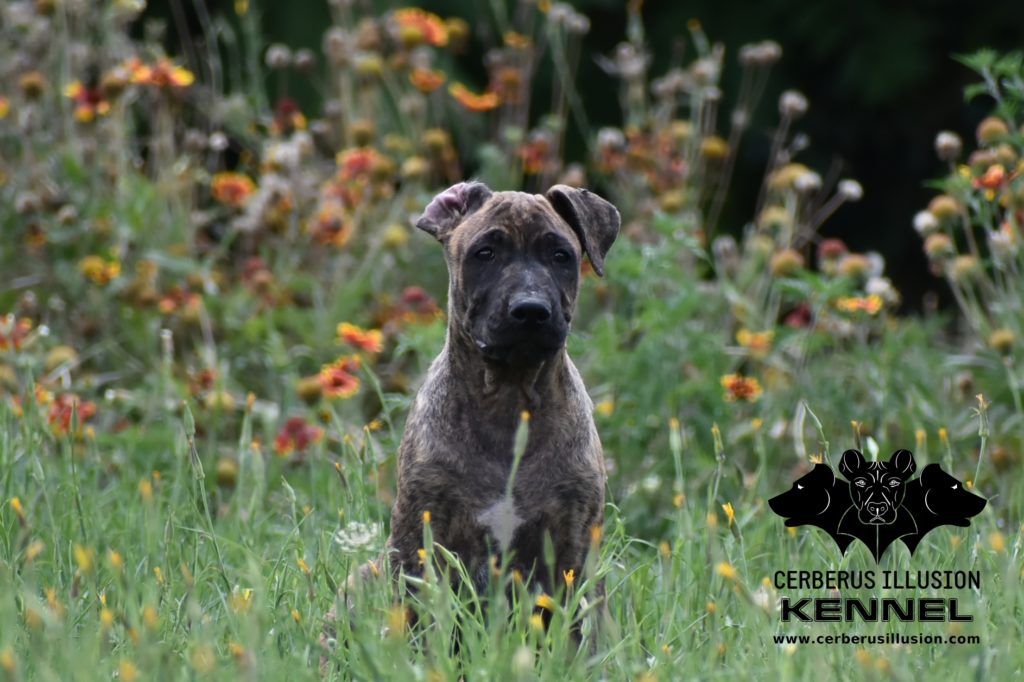 Puppy available for work, show, and breeding. He is already guarding, suitable to other dogs as well as to small children.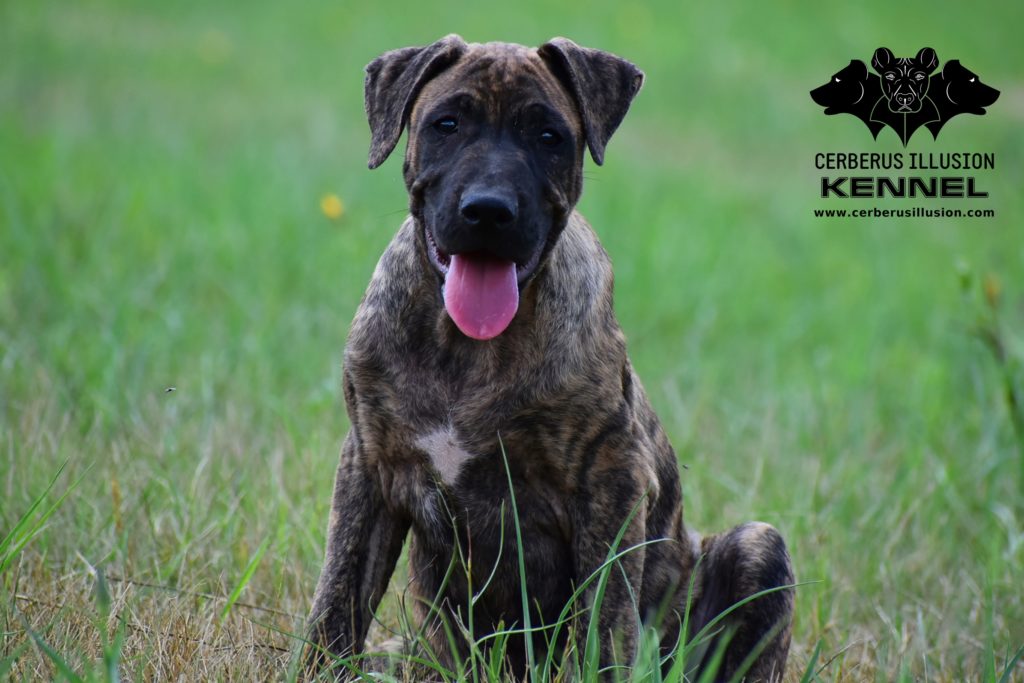 DON MAURO Cerberus Illusion born 1st May 2019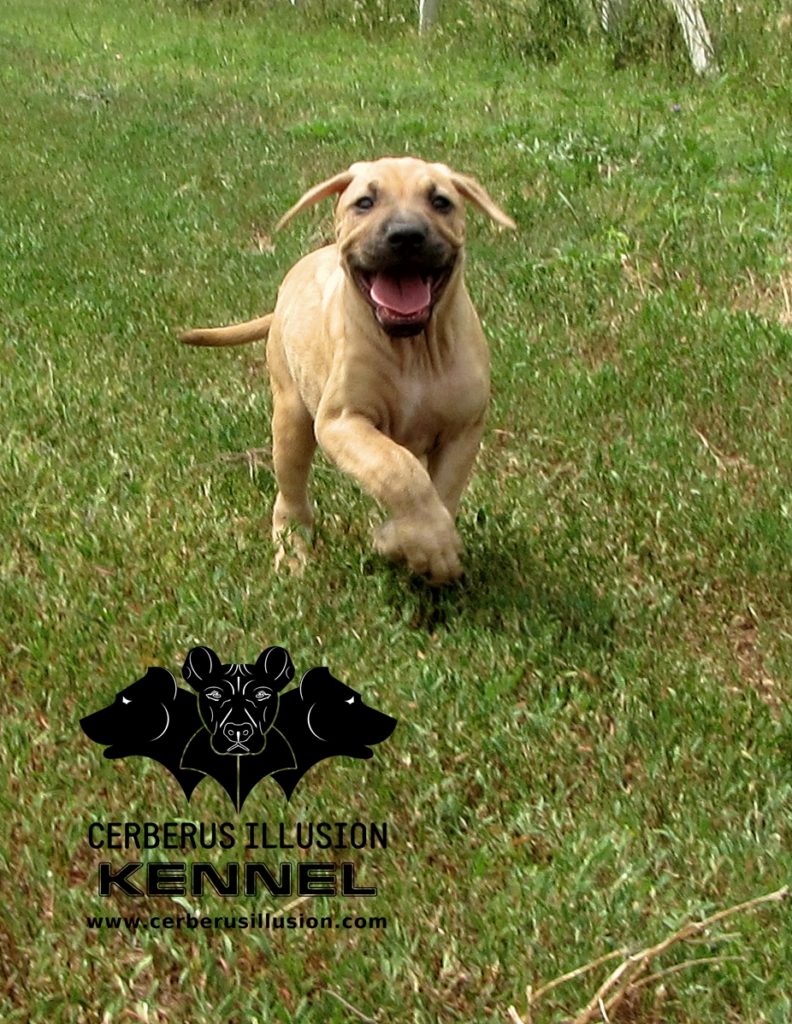 Puppy available for work, show, and breeding. He has very good prey drive, suitable for IPO, he is suitable to other dogs as well as to small children.
Change of family situation
CONAN Cerberus Illusion – son of Multi CH Misia Maura De Aqueronte and GCH Multi CH JCH Tinu De Aqueronte. He was born 29th May 2017 (so soon he will be 2 years old). This cute Cimarron Uruguayo is one of our dogs for sale.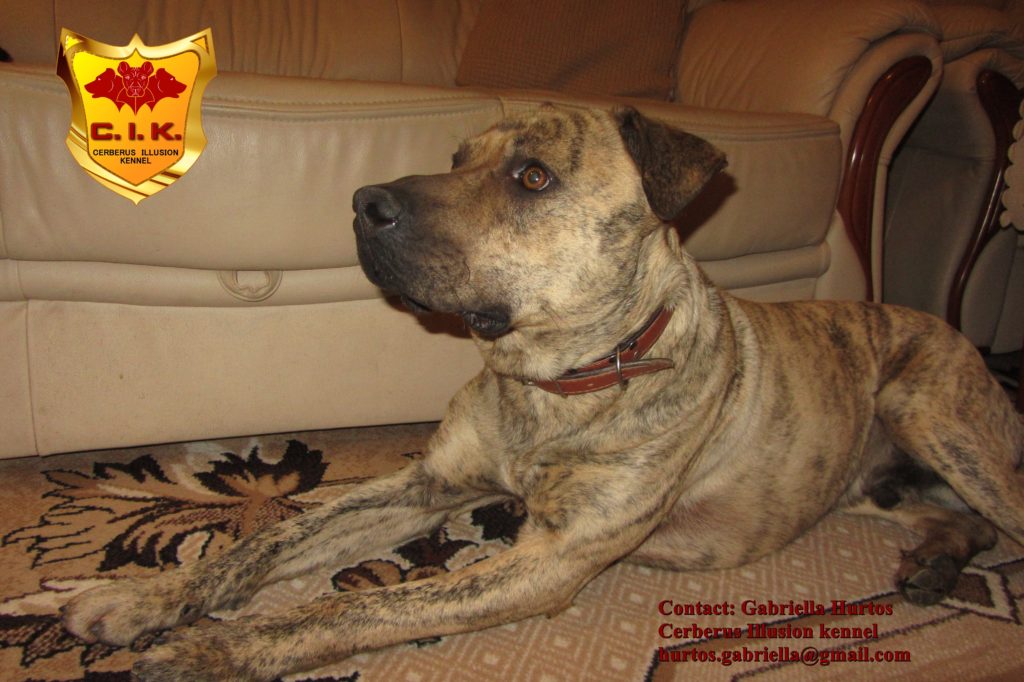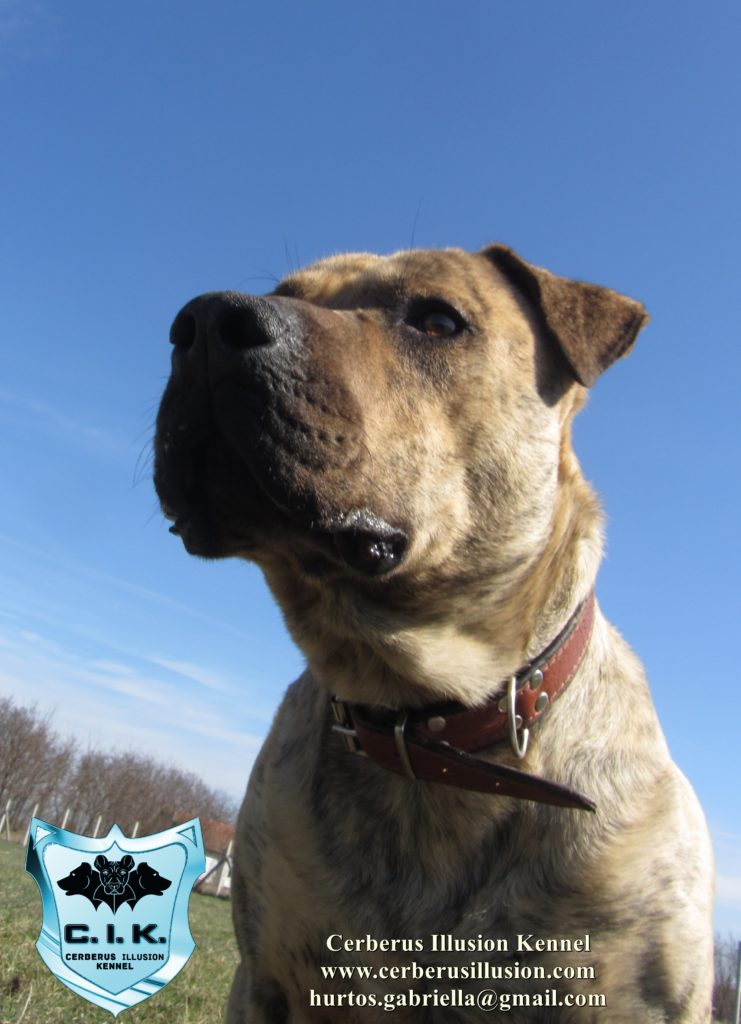 Unfortunately the situation of his beloved owners has recently changed and that is why he was returned to me. Yes, my puppies CAN BE RETURNED BACK if the owners cannot take care of it any longer! His owners loved him as if he was their own child. This was visible not only in their photos. But also on the behavior of Conan after he came back to me. The owners trained him some basic things and in the next 3 weeks I will continue training him intensively. After that time, he will be ready to go to his new family with basic obedience training.
Meet Conan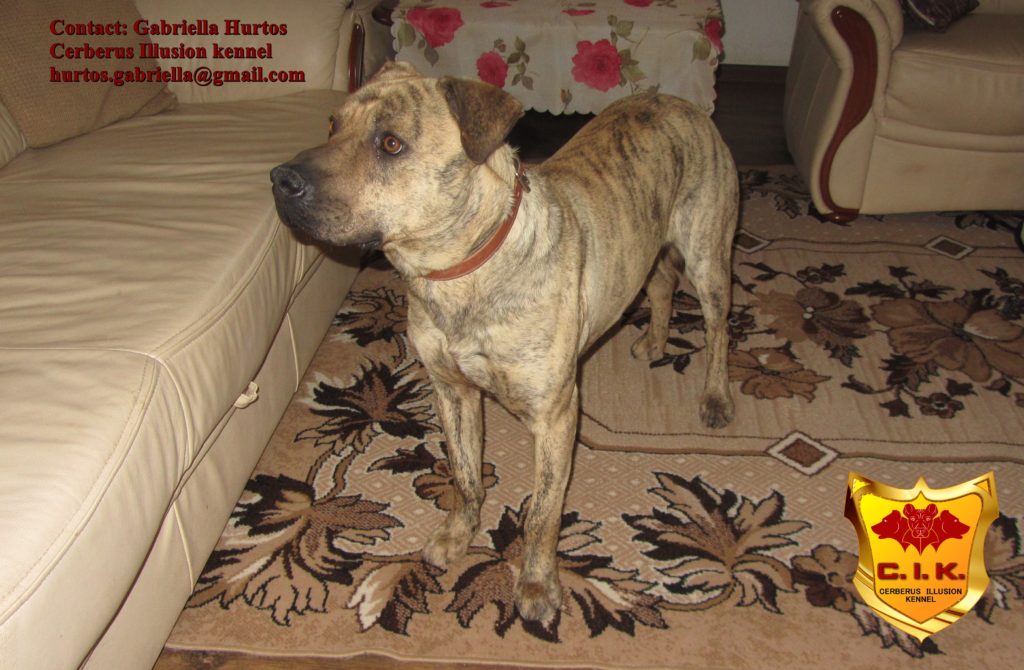 Conan is a male with wonderful character. He loves to be pet, loves to be in my arms and loves to be close to me. When we are outside, he runs a bit and then stays close to me watching my wishes. He loves working – especially obedience.
Conan already knows how to walk on leash without pulling, knows the basic commands "come", "sit", "down", "give paw". He knows, that my dinner is mine and he cannot beg for it. So, he can as well go to lie down and sleep. Clever boy!He is already used for his crate, where he is sleeping. At the same time, he loves watching TV with me. Conan behaves very nice inside, but as well he loves walking outside.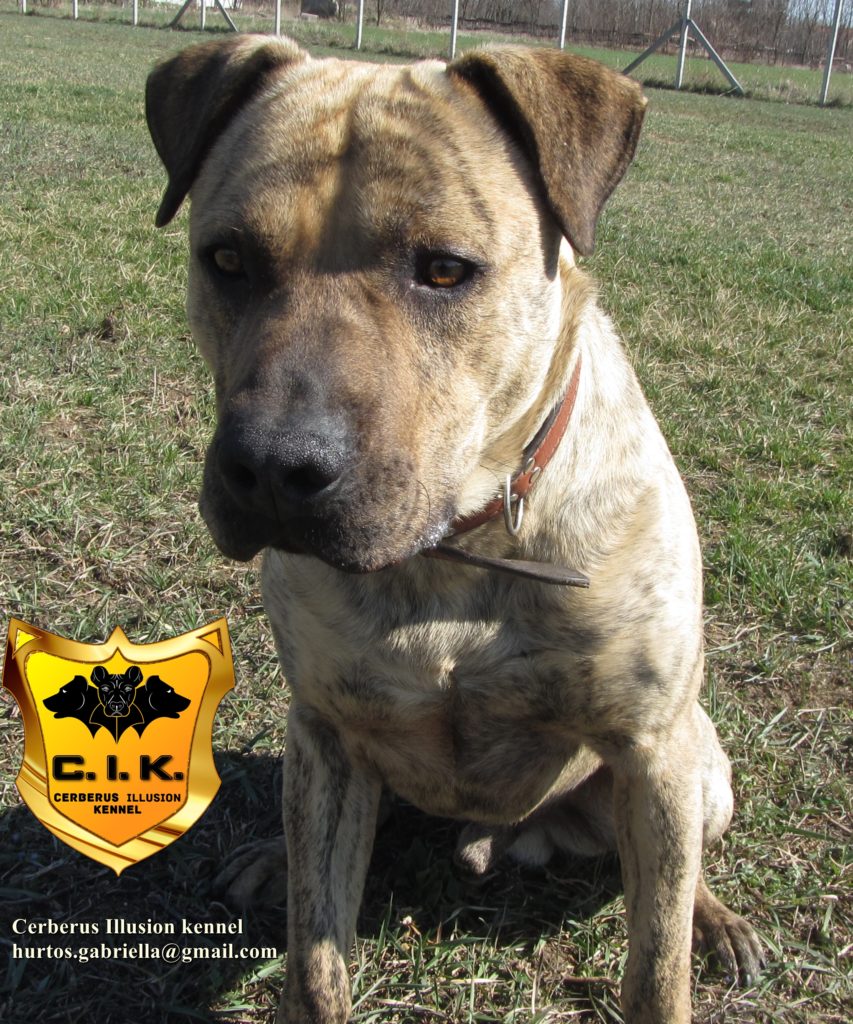 What does he love
He loves travelling by car. Outside, he is guarding our property very nicely, not barking without reason! Now he is living inside with me. Conan intuitively knows he must pee and poo only outside, in spite of the fact sooner he was living only outside. He behaves very nice with all other dogs (big and small). He is submissive, he does not want to fight with other dogs.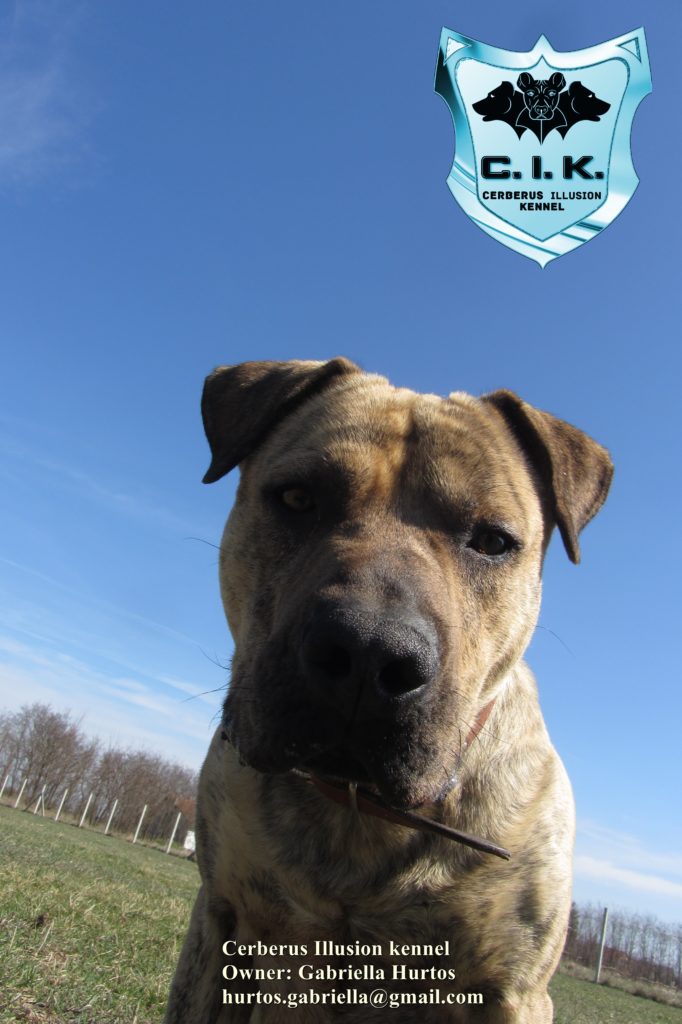 I prefer finding him a family, at which he can live inside! Ideally if you are working from home and you have enough time for a dog! If you are working 8-12 hours away from home and the dog should be the whole day alone, please, do not contact me!
If you are interested in Conan and you think, you could give him plenty of love for the rest of his life, please contact me! I will be glad if you introduce yourself and write, why you would like to have Conan by your side.