Extraordinary Unique I litter
Extraordinary Unique I litter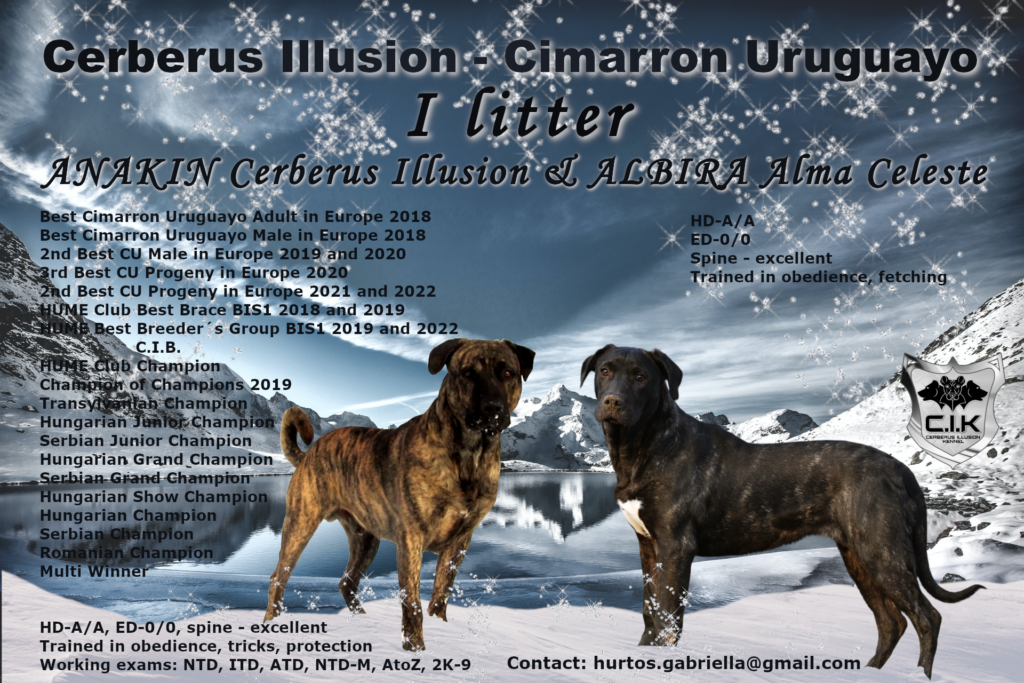 The Best Cimarron Uruguayo kennel in Europe (Ranking 2018 – 2022) proudly presents the new unique I litter born on 19th May 2023! We expect incredible puppies that are the result of the exclusive co-operation of two biggest kennels of Uruguayan Cimarron dogs in Europe. If you are interested in one of our puppies, don't miss out the opportunity to have a treasure puppy from this special litter. Puppies will be suitable for tracking, search and rescue and other kind of nose work.
Currently available puppy for sale
ISABEL Cerberus Illusion – TOP Uruguayan Cimarron puppy for sale
Amazing new litter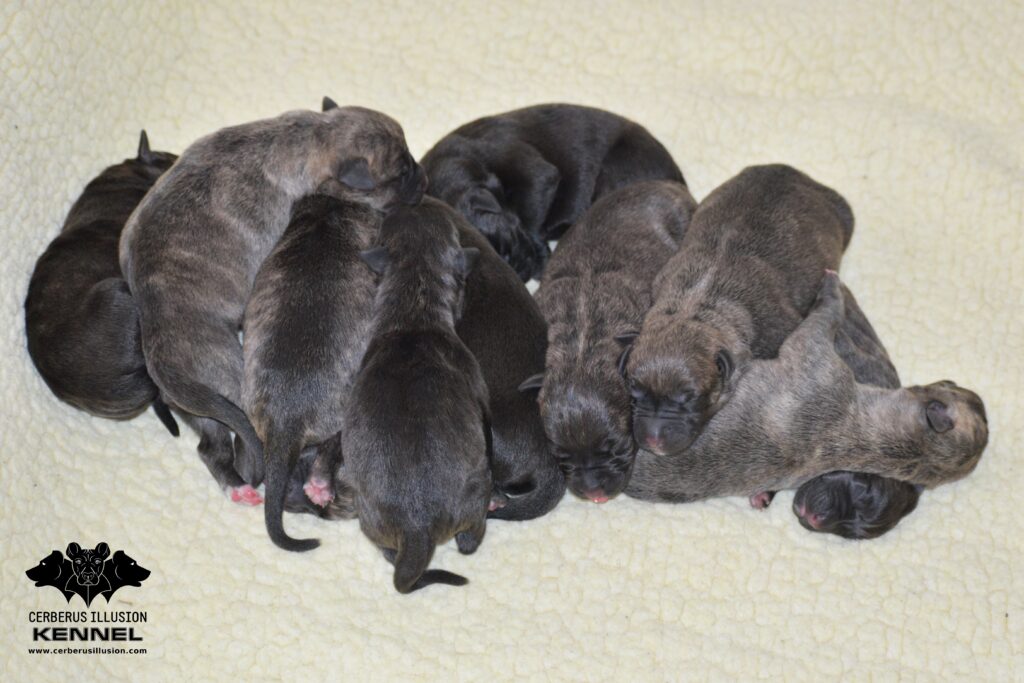 I litter is a stunning wonderful litter – our 9th UNREPEATED litter! We expect puppies for show, work and various kind of dog sports. In the case you want to breed Uruguayan Cimarrons, having a puppy from this litter is a spectacular opportunity, because puppies from this litter will suit to plenty of Cimarrons in Europe.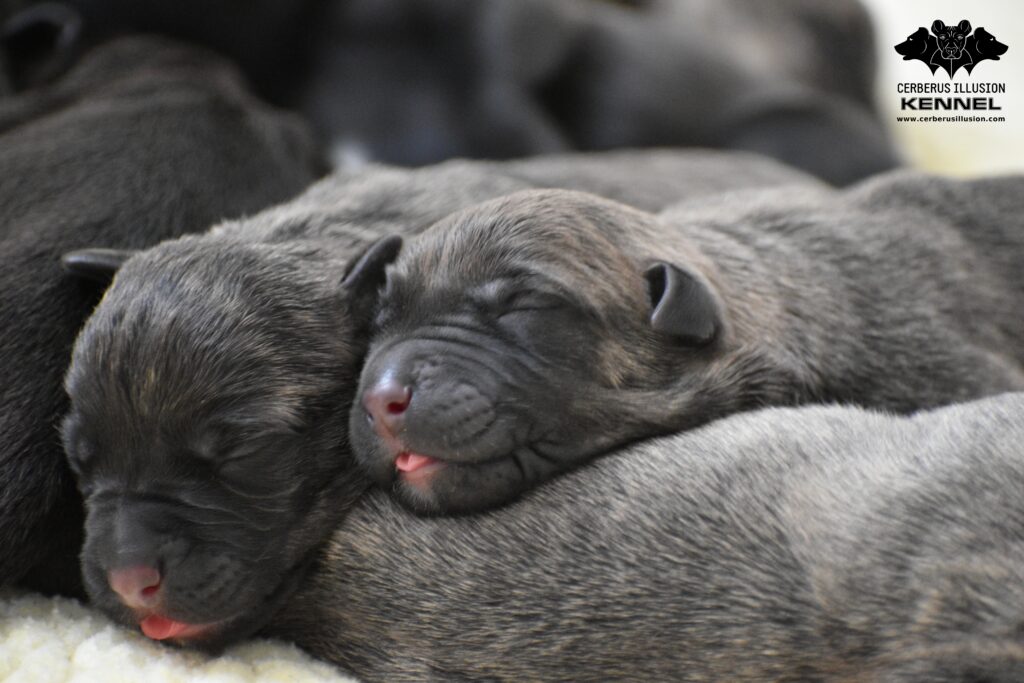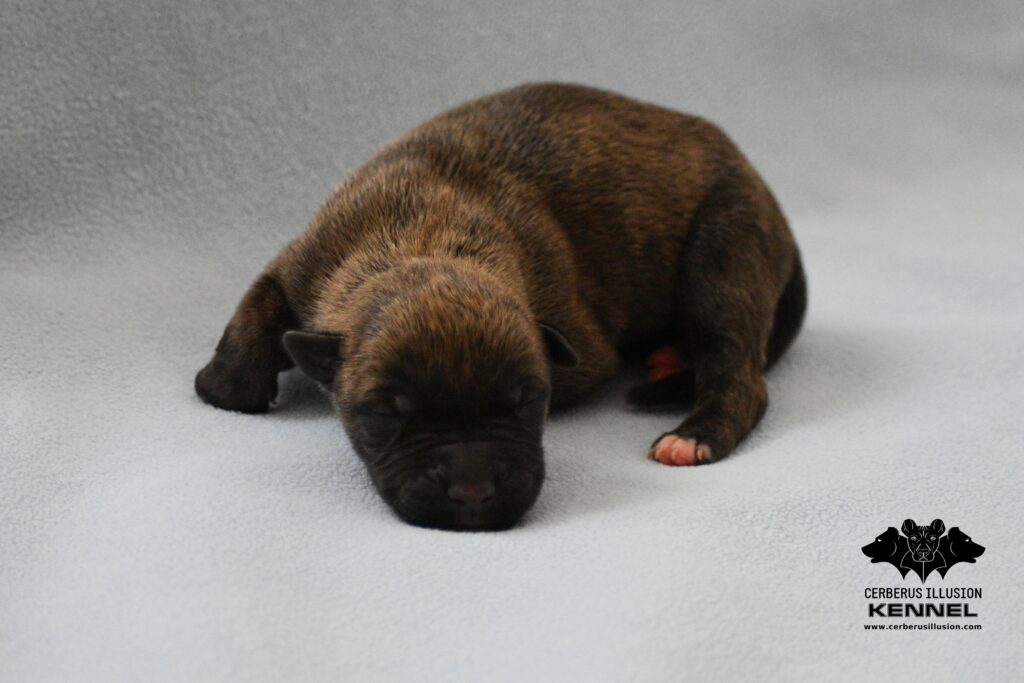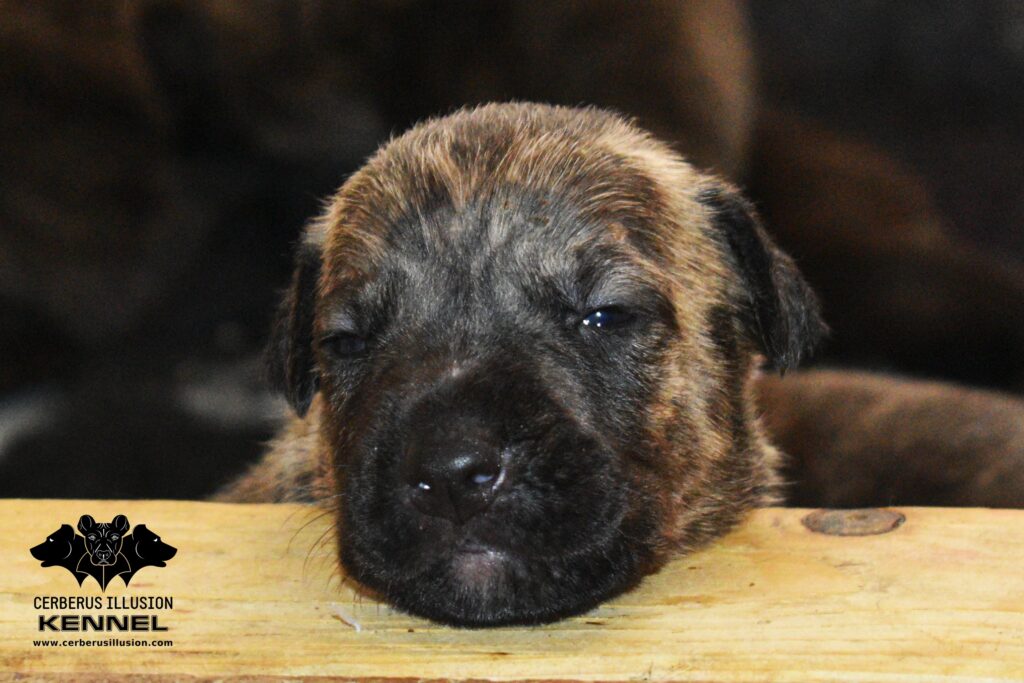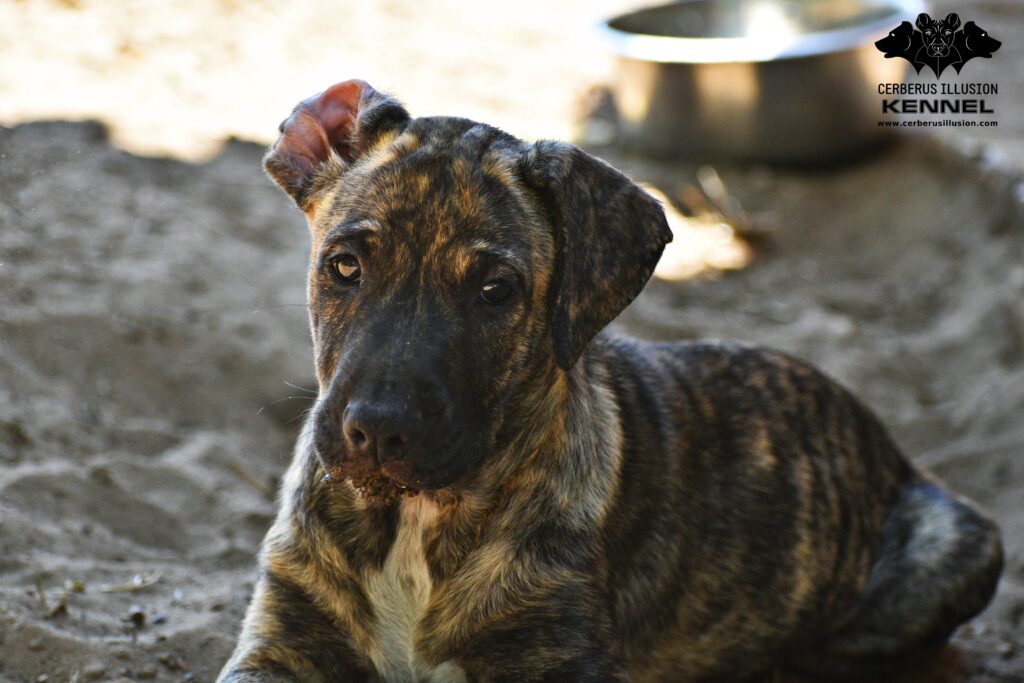 Puppies tend to have the character of their parents who are friendly, they love cuddling and are very loyal to their owner. They behave nice with other dogs and children. Both love to accompany each step of their owner, they are real smiling and kissing clowns who make you smile all the time.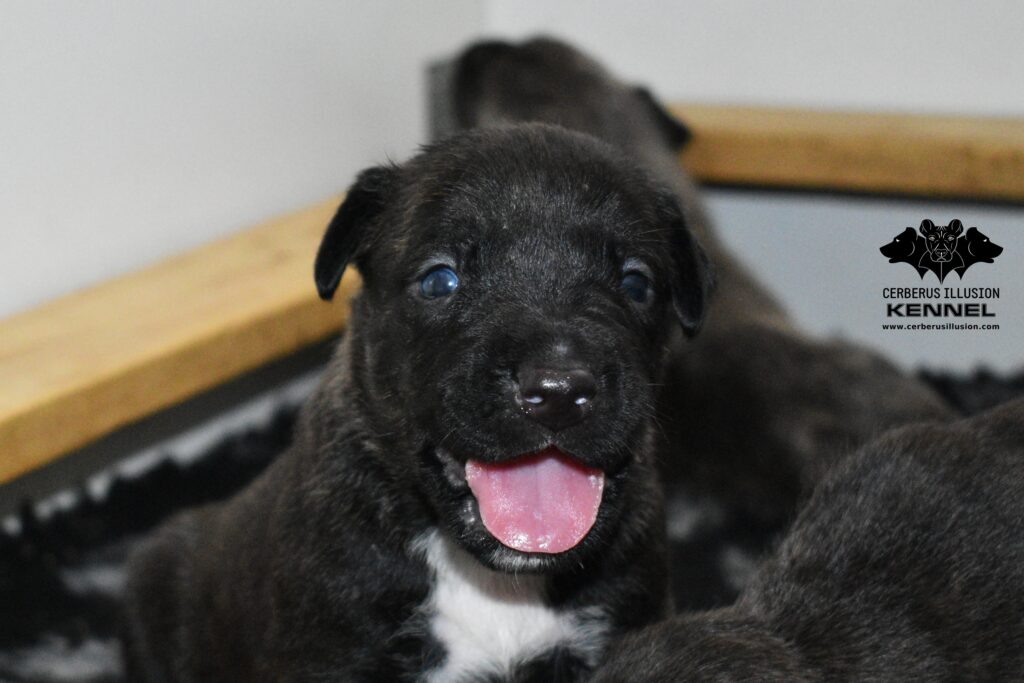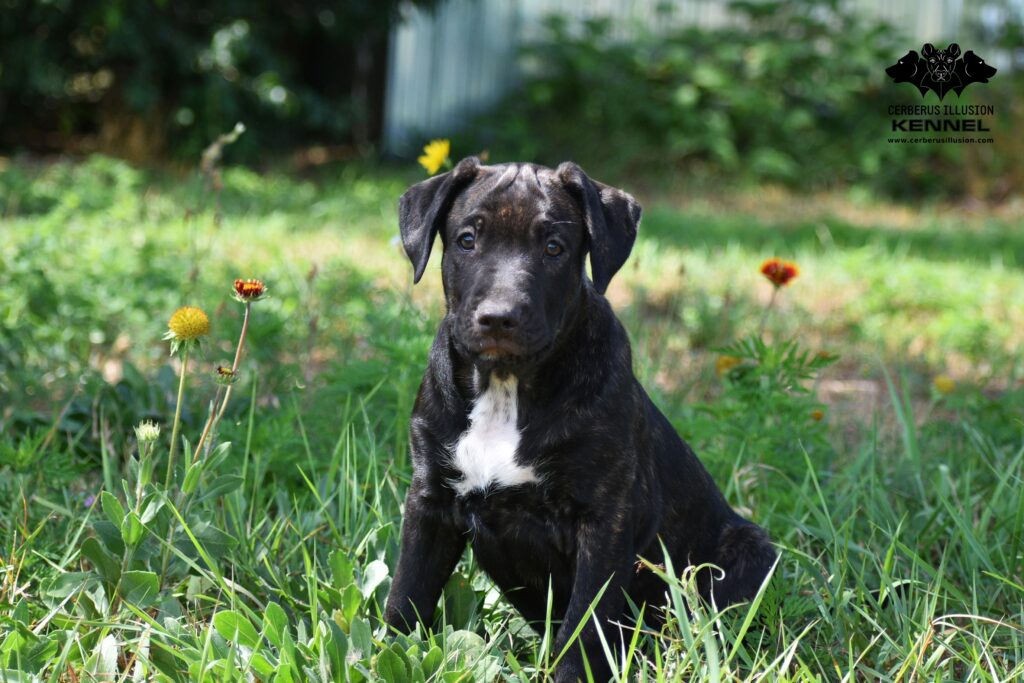 Complete all-inclusive breeder´s service
The Cerberus Illusion kennel plans each litter very carefully. I always keep in mind that breeding should look like – IMPROVING. Excellent health, character, working ability and anatomy according to the FCI standard are the most important factors in our breeding. It is pleasure to create healthy dogs that make their families happy and satisfied. I enjoy reading the messages from my puppy owners claiming that they got "the best dog in their life", "best companion", "most clever dog" etc. from me. There are owners who returned to our kennel to take their second or even third dog from my kennel. These owners usually have dogs from different generations and they could all confirm that the next generation is better than the previous one. This makes me even more proud as they could confirm that I IMPROVE dogs generation by generation.
Bonus which comes with a puppy from Cerberus Illusion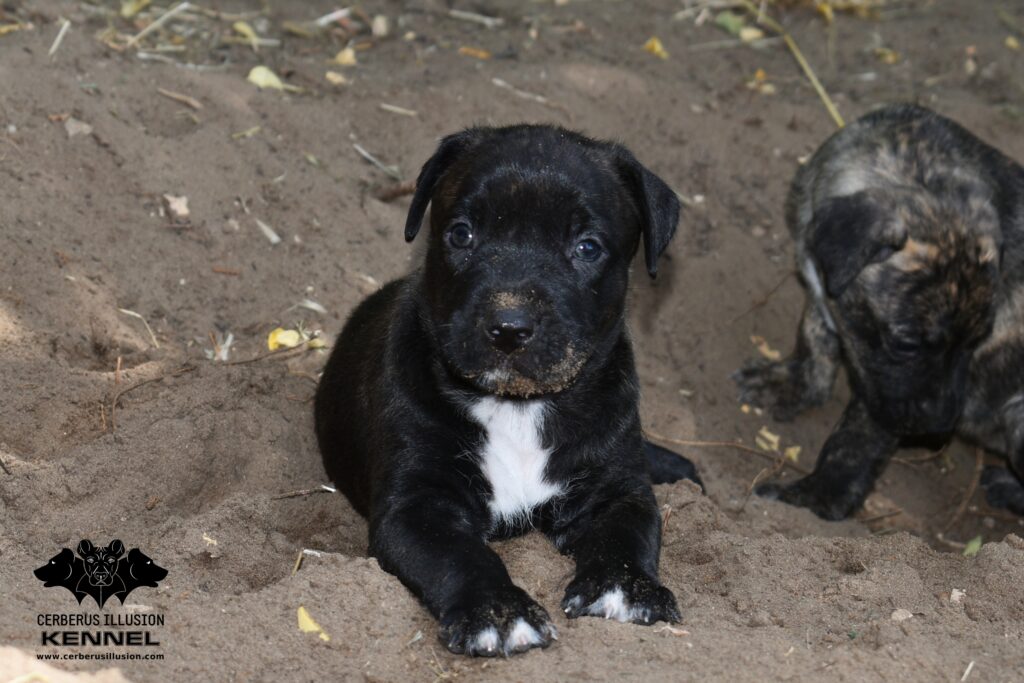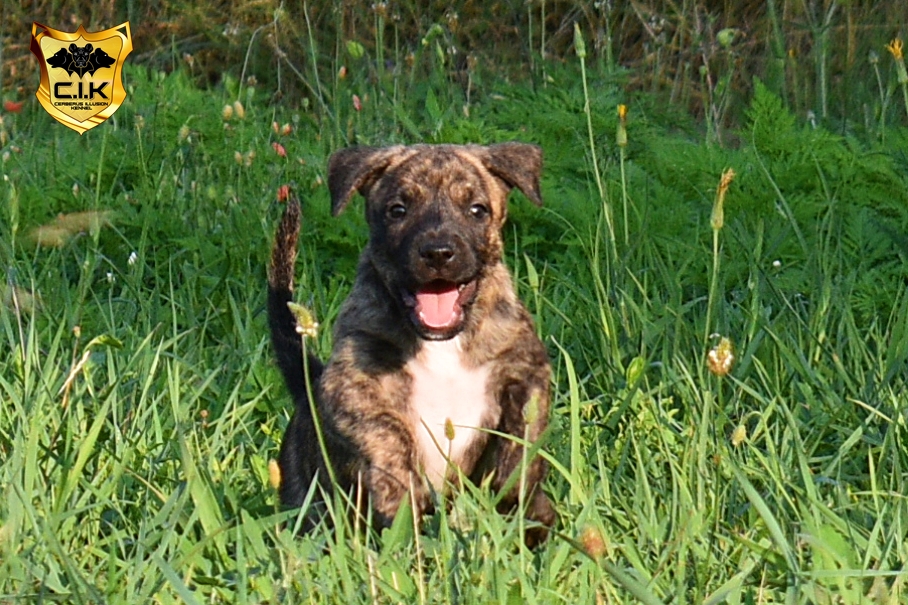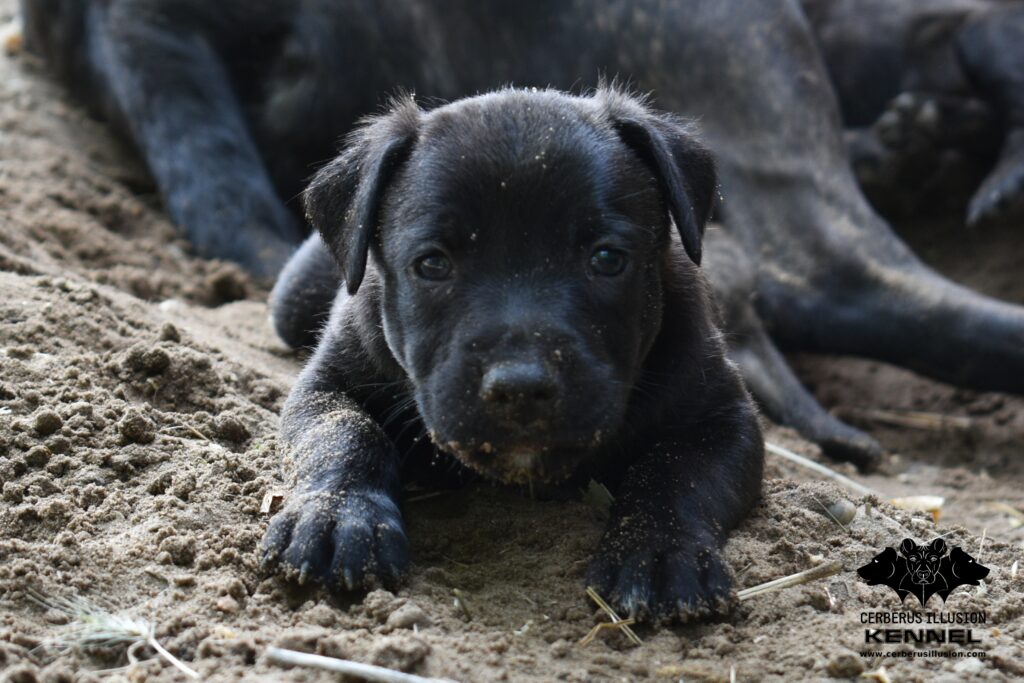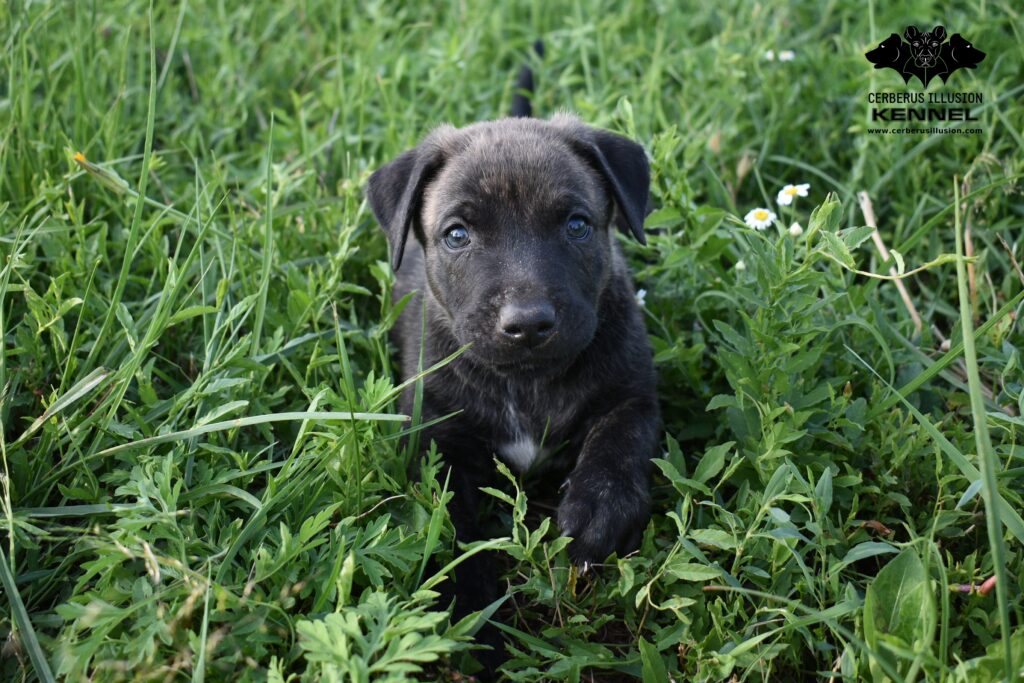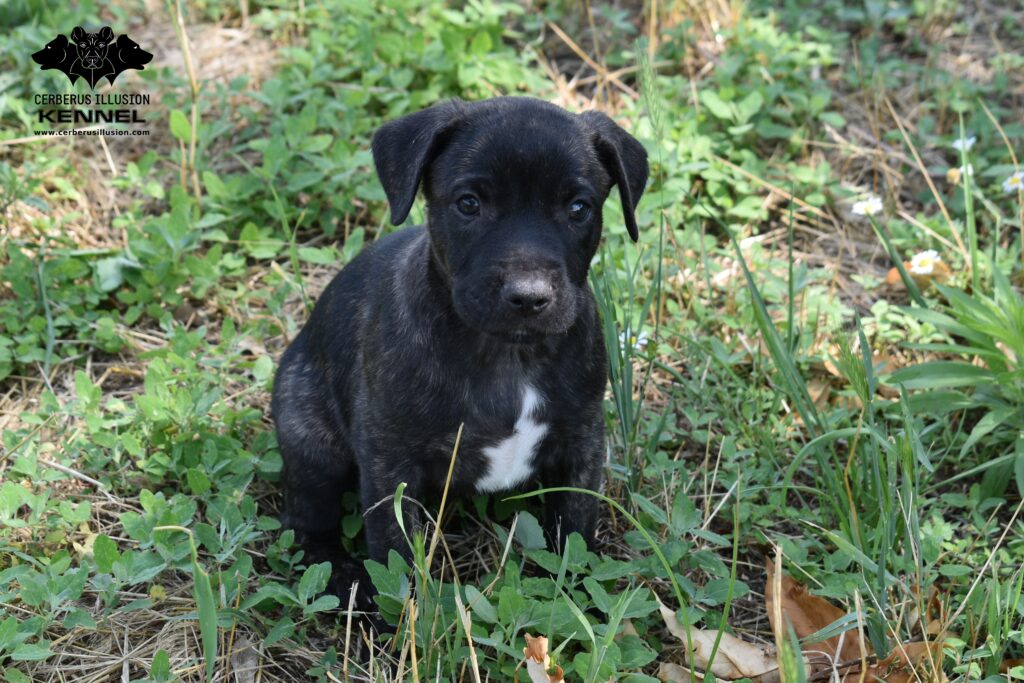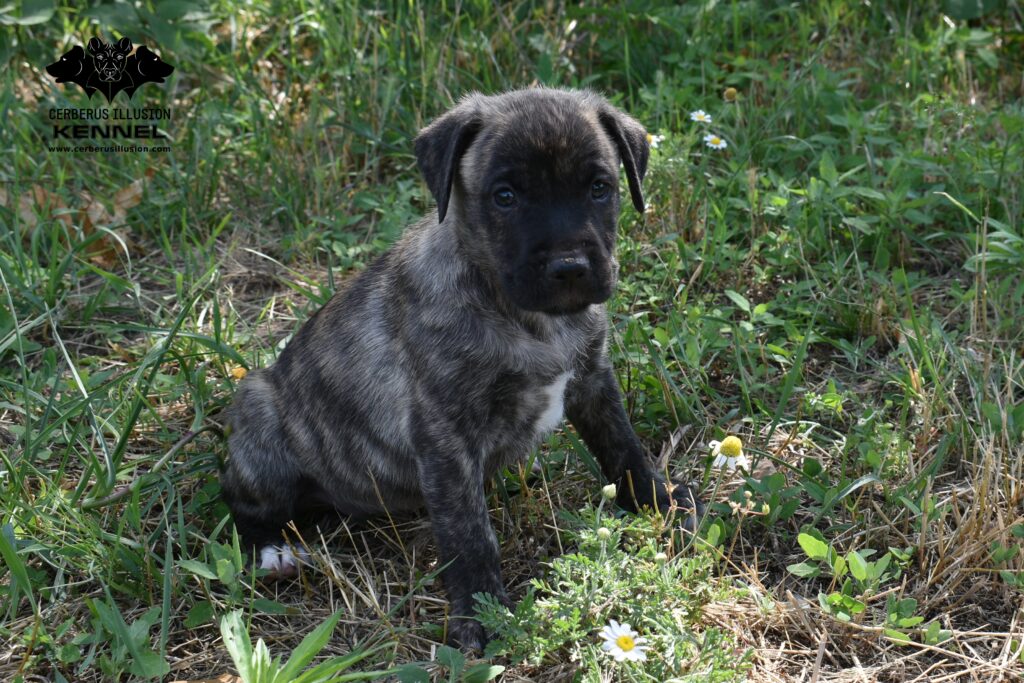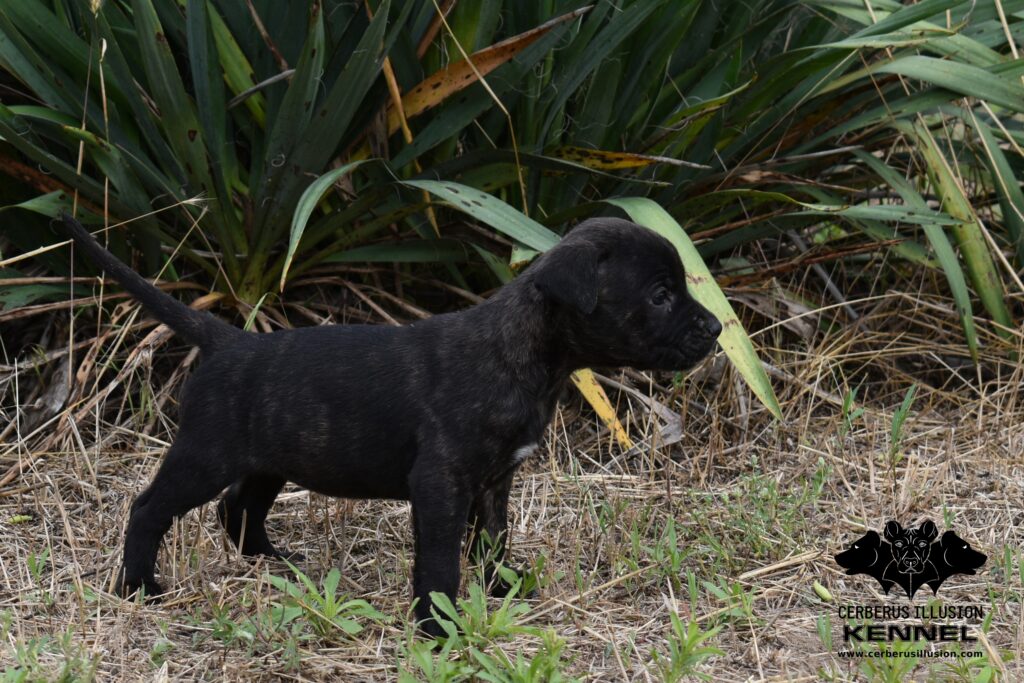 Here is a short list concerning what you get with our puppy: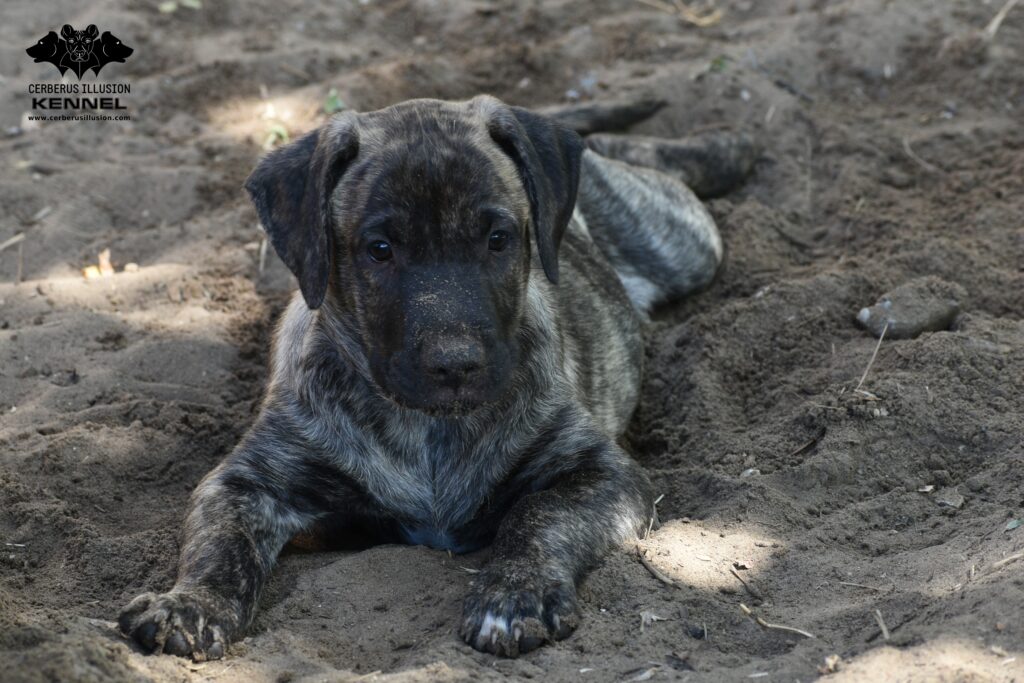 Proven successful selection of puppy for the future owner – both, the family and the puppy must match to each other to be happy.
72-hour guarantee – guaranteed healthy puppy is given
6 months guarantee for genetical diseases (based on the contract)
Lifelong complete breeder´s support – more details here.
FREE online basic dog training
Third generation of working puppies
The third generation of working Cimarron Uruguayo dogs at Cerberus Illusion kennel
Unique unrepeated litter
Champion bloodlines
Both parents with excellent health (HD – A/A, ED 0/0, excellent spine)
Father is the fifth generation with only HD-A dogs in the pedigree!
Both parents are working
Limited access to our line
At Cerberus Illusion, we do not repeat litters! Each litter is unique. This might change in the future in the case of really small litters or at litters with strictly limited breeding rights. Our males do not mate huge masses of foreign females. I prefer using my males only at home. Especially Tinu De Aqueronte, his son Anakin and his son Duncan Cerberus Illusion are used exclusively with my own females. Due to this, their line is available only via their puppies. This makes our puppies really valuable also for breeding. At the rare dog breeds (like Cimarron Uruguayo), the large and diverse gene pool is very important. This is one of the reasons, why I do not repeat litters and why I limit the breeding rights. Only a few puppies (sometimes only one per litter) are sold with breeding rights. Our dogs cannot be resold to third parties!
Puppy socialization at Cerberus Illusion kennel
Our puppies are being carefully watched and tested. The mother with her puppies are always inside and I am living in the same room where they are. I sleep there and during the day I am working in the same room. The puppies are well socialized (as you can see in the following video) since the first moment, they learn to play with different toys, they are socialized to various sounds, things, household equipment and devices as well as to other dogs.
Is this breed suitable for you?
Are you interested in one of our Cimarron Uruguayo puppies, but you wonder if this breed is suitable for you? Have you read plenty of misleading information about this breed? Did you hear they are too active and need plenty of space? Thus, you might think they can live only on a big farm. Or have you read they are aggressive and will eat you? This information are ALL FALSE! Feel free to read our article about Cimarron Uruguayo. More detailed description of the breed can be found in English, Slovak and Czech. Shortly, Cimarron Uruguayo is suitable for plenty of different people with different lifestyles. You just need a breeder, who will offer you the puppy, which suits you and your family.
What puppy do you prefer?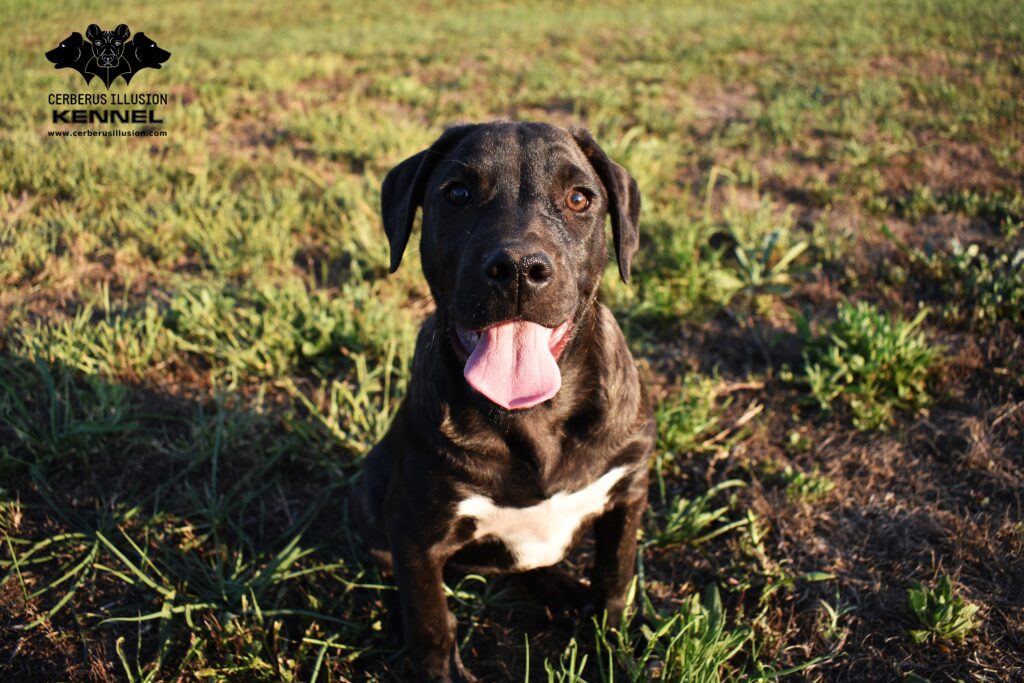 As a breeder, who is working with whole litters of puppies, I always choose only the perfect puppy for each future puppy owner. If there is not a perfect puppy for someone, I do not offer another puppy just to sell it. I rather recommend another breeder, who has puppies at the same time. So be prepared for plenty of question so I have the opportunity to know you and your family, as well as the conditions where the puppy will live. If you ask for a puppy for show and breeding, be prepared that I will offer you only such a puppy, which I would keep myself. I send only the best puppies for show and breeding, where the anatomy, movement and character must be all beautiful.
Selection of the best puppy for you
The constant watching of the puppies and long-years experience enables me to recognize, which puppy is talented in what field. Finally, each of us prefers different kind of character at our dogs. The character of each dog at all dog breeds is as unique as the character of every single person. If you want a puppy for a certain kind of dog sport or work, I will offer you only the puppy that will be suitable for it. A hyperactive person always in the movement will not be happy with a lazy dog that will prefer lying on the sofa and being cuddled.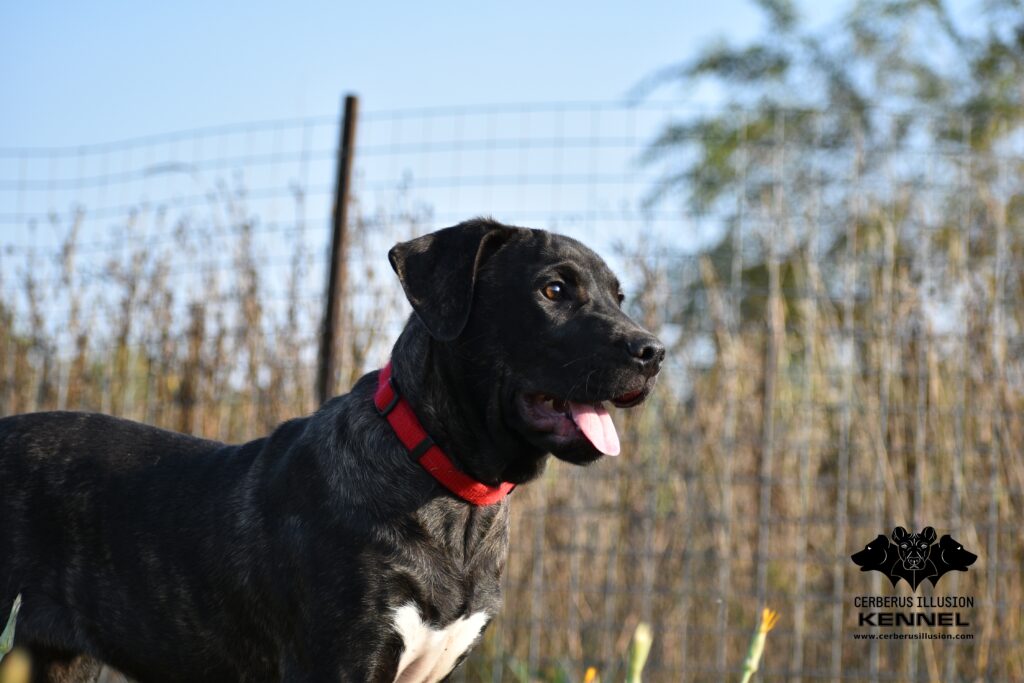 It is the same if you want only a family dog. I will want to know whether there is another dog or other animal in your family or whether you have children. If you have another dog, I will offer you a puppy that will get along well with your current dog. Many of our Cimarrons are in the families with small children and I am very proud of the character of our dogs. They all behave really nice with children. This is characteristic also for my own dogs which are used for breeding.
Feel free to read more about what you get with our puppies here.
Sire of I litter: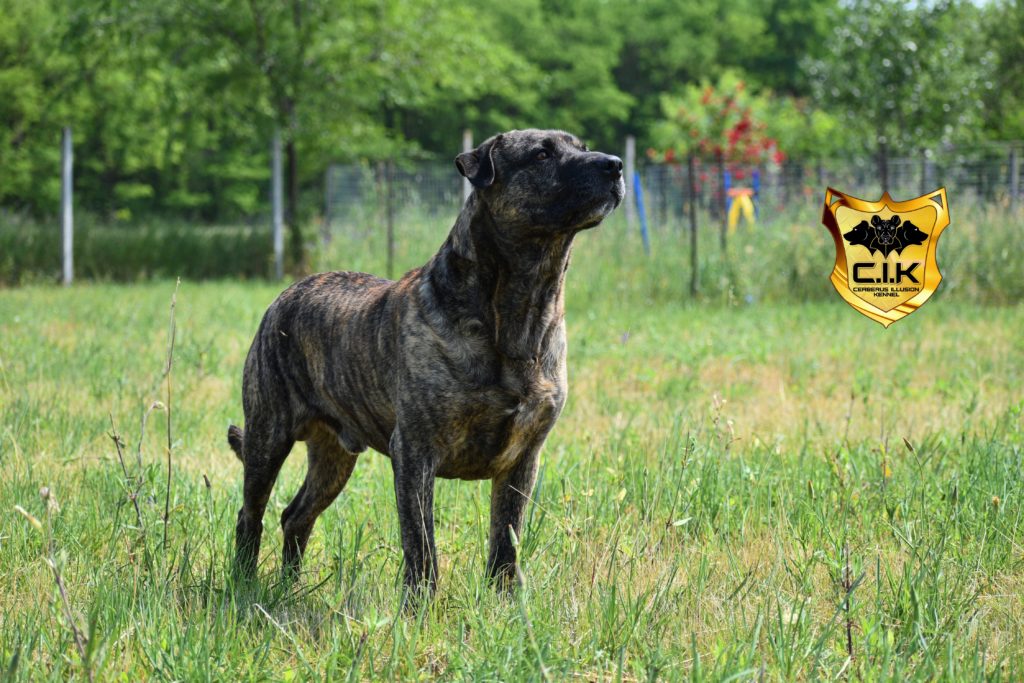 Best Cimarron Uruguayo Adult In Europe 2018
Best Cimarron Uruguayo Male In Europe 2018
2nd Best Cimarron Uruguayo Male In Europe 2019 & 2020
Best CU Breeder´s Group In Europe 2019 & 2022
Best Cimarron Uruguayo Brace In Europe 2019
3rd Best Cimarron Uruguayo Progeny In Europe 2020
2nd Best Cimarron Uruguayo Progeny In Europe 2021 & 2022
3rd Best Cimarron Uruguayo Male In Europe 2022
C.I.B. – International Beauty Champion
Hungarian Grand Champion
Serbian Grand Champion
Hungarian Show Champion
Hungarian Champion
Serbian Champion
Transylvanian Champion
Romanian Champion
Hungarian Junior Champion
Serbian Junior Champion
Champion of Champions 2019
Hungarian Molosser Club Champion
Derby Winner 2017
Best Derby Winner 2017
Hungarian Molosser Club Winner 2018, 2019, 2022
HUME Club BIS Best Brace 1st place
HUME Club Best Brace BIS 1st place 2019
Hungarian Molosser Club Best Breeder´s Group BIS 1st place 2019 & 2022
HD-A/A (free of hip dysplasia – 5th generation of dogs with only HD-A in pedigree!!!)
ED-0/0 (free of elbow dysplasia)
Spine – excellent
Trained in obedience, tricks and protection.
Anakin is the first Cimarron Uruguayo in the World with the following Trick dog and other working titles:
Novice Trick Dog
Intermediate Trick Dog
Advanced Trick Dog
Novice Masters Trick Dog
Alphabet Challenge
2K-9 Run Ruff
Dam of I litter: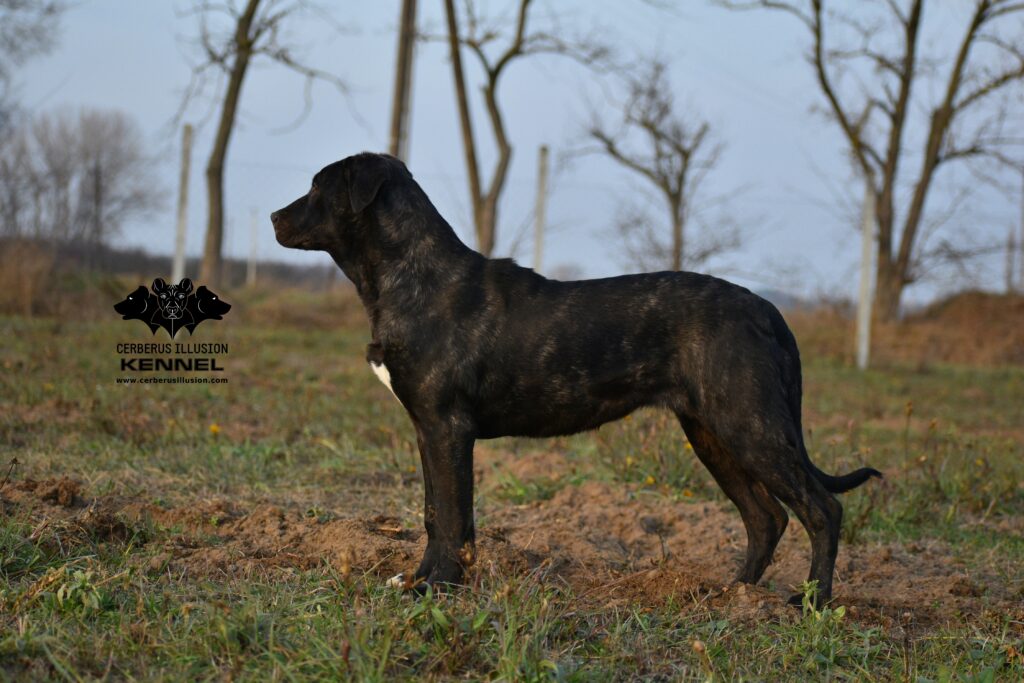 HD-A/A (free of hip dysplasia)
ED-0/0 (free of elbow dysplasia)
Spine – excellent
Trained in obedience, tracking and fetching.
---