FATIMA Cerberus Illusion
FATIMA Cerberus Illusion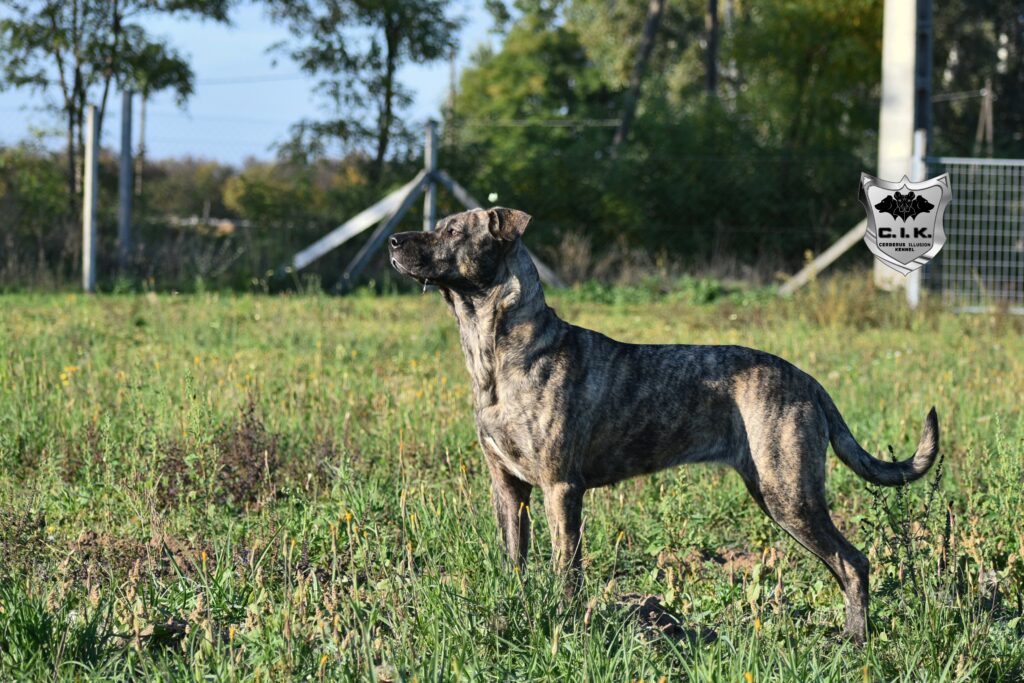 FATIMA Cerberus Illusion was born in a really special litter – in a litter with the 4th generation of my own working Cimarron Uruguayo dogs. In fact, Cerberus Illusion kennel is the only one in Europe where 4 generations of Cimarrons have been living together! People who have ever created a working line know, how much work it is. You have to work with each of your dogs, generation after generation. You have to select the BEST dogs not only according to their anatomy and character but also working potential. Of course, you must be able to recognize the abilities of your really young puppies.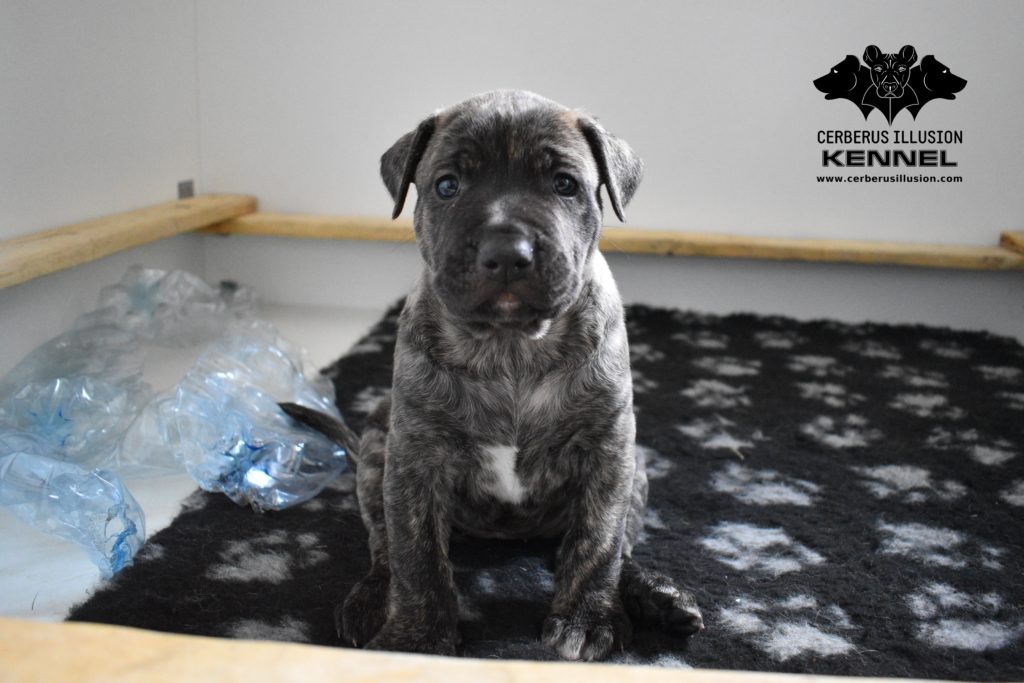 Choice of the right puppy for me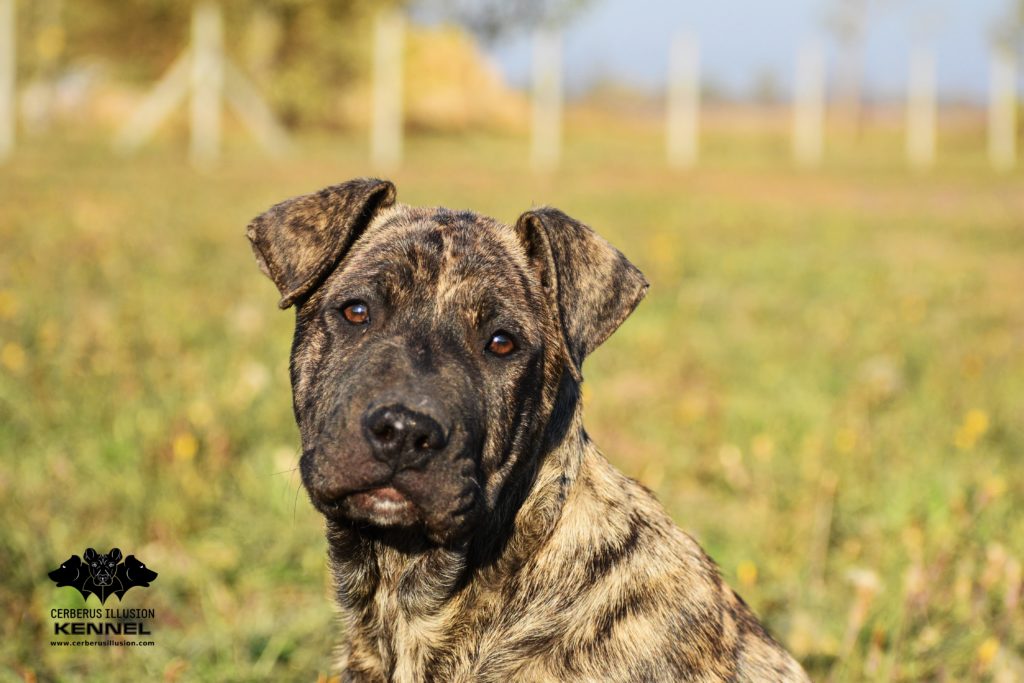 The birth of this F litter was not easy at all, but finally we had 3 healthy and strong puppies. It was clear since the first moment – this litter will be mine. As so many times before, I fell in love with a boy – Falcon. BUT – Beulah – the mummy chose me one of the girls… She wanted to see this girl all the time, she wanted to have her close to herself. She was even crying if the puppy got further from her in the first couple of days. I had to get up hold this little girl and put her as close to her mum as possible. By this Beulah forced me to take her in my hands more often.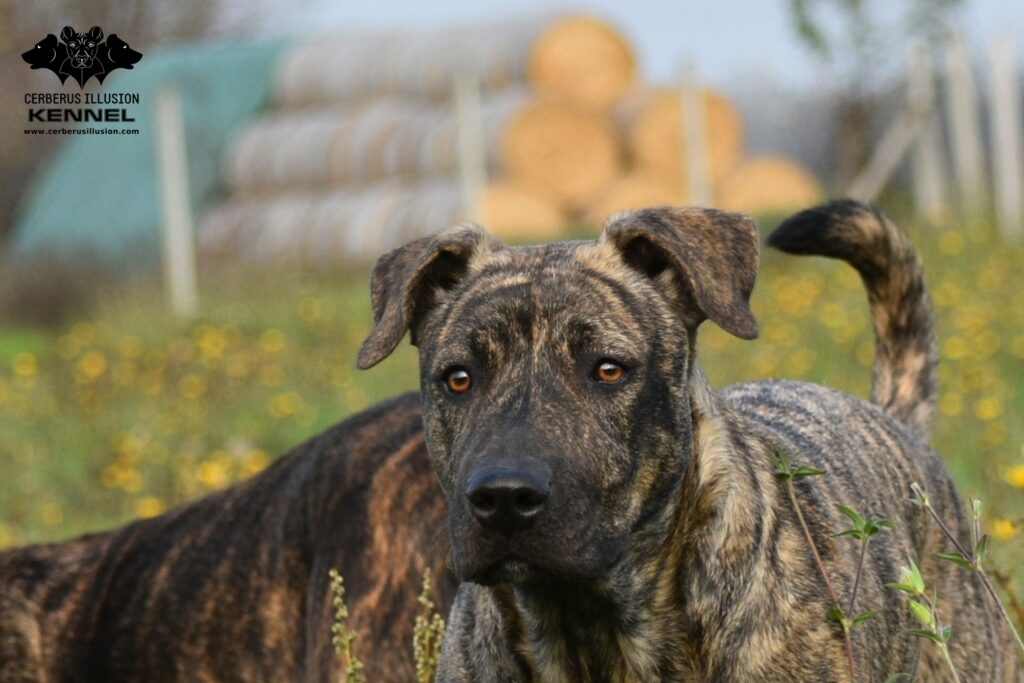 The more I saw the behavior of my beloved female the more I started thinking about the option to keep this female. I trust to my dogs as they know me very well. The relationship and bond between us is so strong, they know which puppy suits me the best. Years ago Connie chose me the best male in my life – Anakin. Now I kept listening to the choice of my Beulah as well.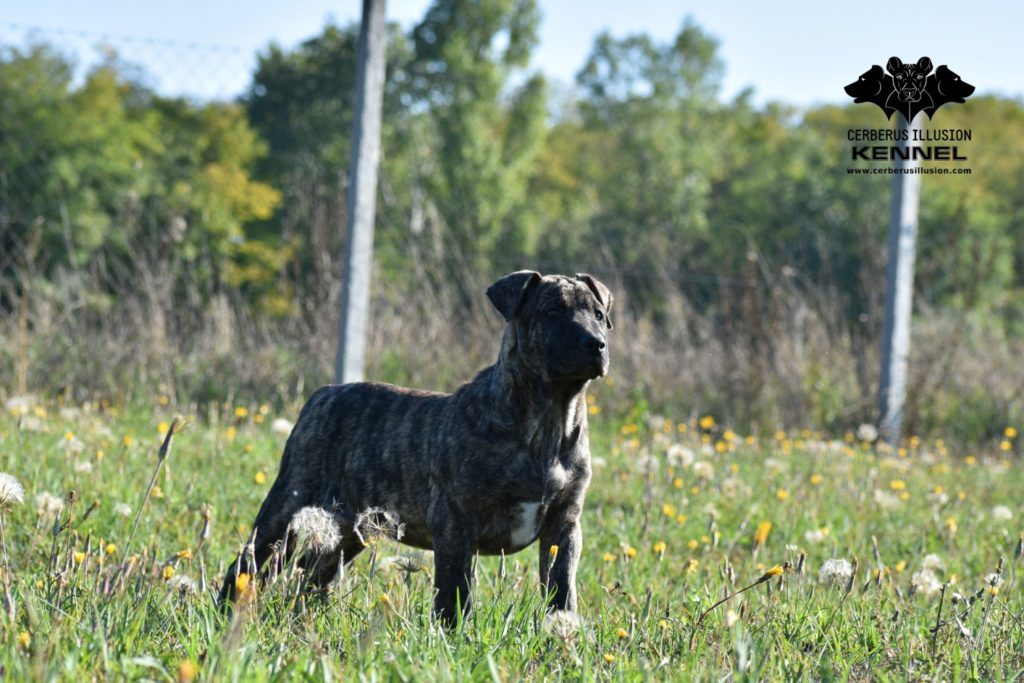 Character of puppy Fatima
As puppies were growing, the only male and this girl became more and more similar. Not only they looked like each other, but also their character was really similar. Moreover, their character suited me so much. I named the little girl by a special name FATIMA. She became the alpha of this litter, she was the big boss. I always kept the alpha puppies at home, especially if they had good predisposition for protection. Fatima was such a puppy.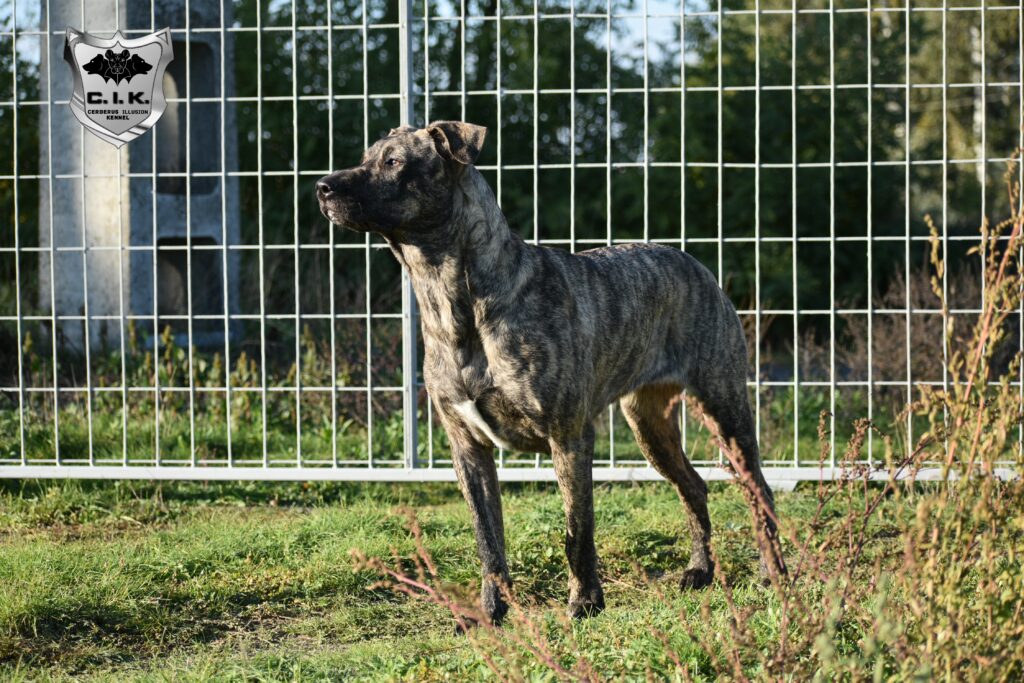 She had extraordinary self confidence. When she saw me, she came, grabbed my leg and did not want to release at all. Her mum seeing this came to her, grabbed her neck from above and took her off my leg. Beulah accompanied this little biting monster into the corner of the play yard as if she was a bad child. As soon the the puppy got into the corner, she fell herself to the ground. It looked like she knew why her mother put her into the corner. Her face expression was unbelievable. She looked like a sulking little child…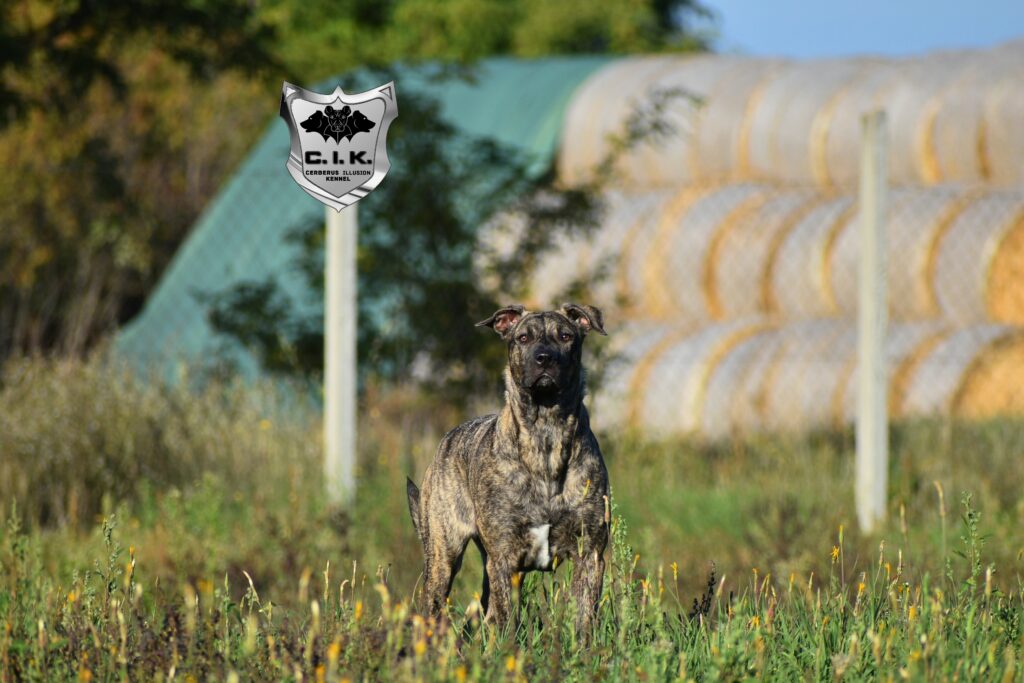 The third puppy was an "angel". She was born with a big heart sign in her chest so I called her "sweetheart". The older this litter got, the less I wanted to let them go. This is the most difficult part of the breeding – when you have to decide well. Falcon was offered to my excellent breeder friend who needed a new male.
Thus I decided to keep Fatima for myself. I started working with her and in the age of 3 months she knew 66 tricks and passed 6 working titles! Her working potential and will to co-operate with me mesmerized me.
Work and training
Daughter of a fantastic working male and female. She inherited her mother´s great working potential, improved by her father´s excellent prey drive. A real working dog who is eager to work. Fetching balls is one of her favorite activities.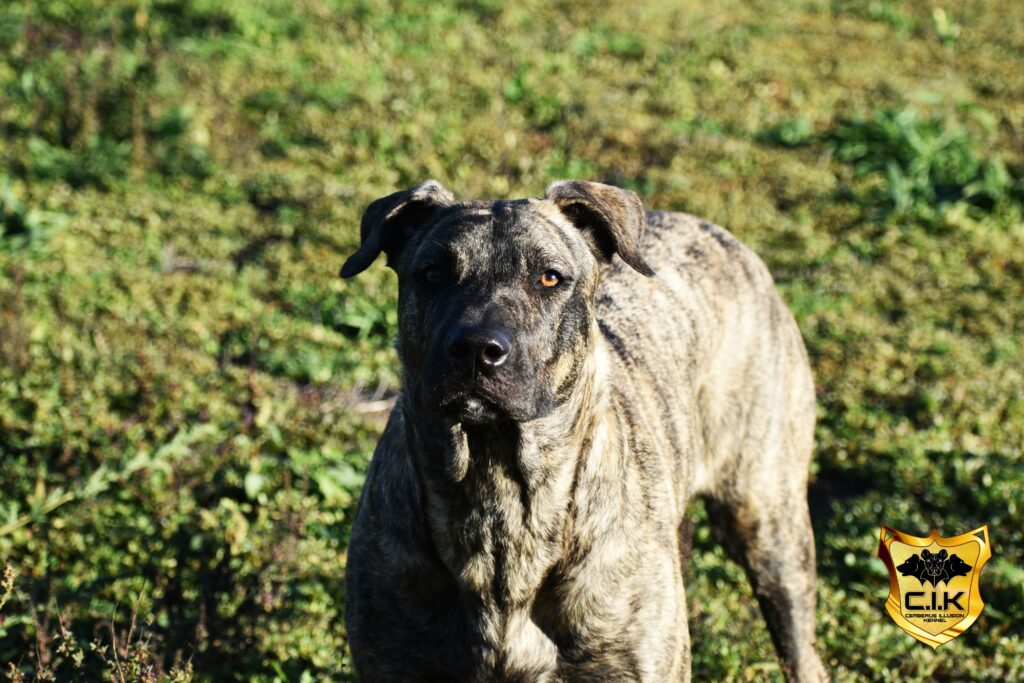 Trained in: obedience, trick dog, fetching. Some of our working videos are available also here.
Fatima is the first Cimarron Uruguayo in the World with the following Trick dog and other working titles at the age of 3 months:
Novice Trick Dog
Intermediate Trick Dog
Advanced Trick Dog
Novice Masters Trick Dog
Intermediate Masters Trick Dog
Alphabet Challenge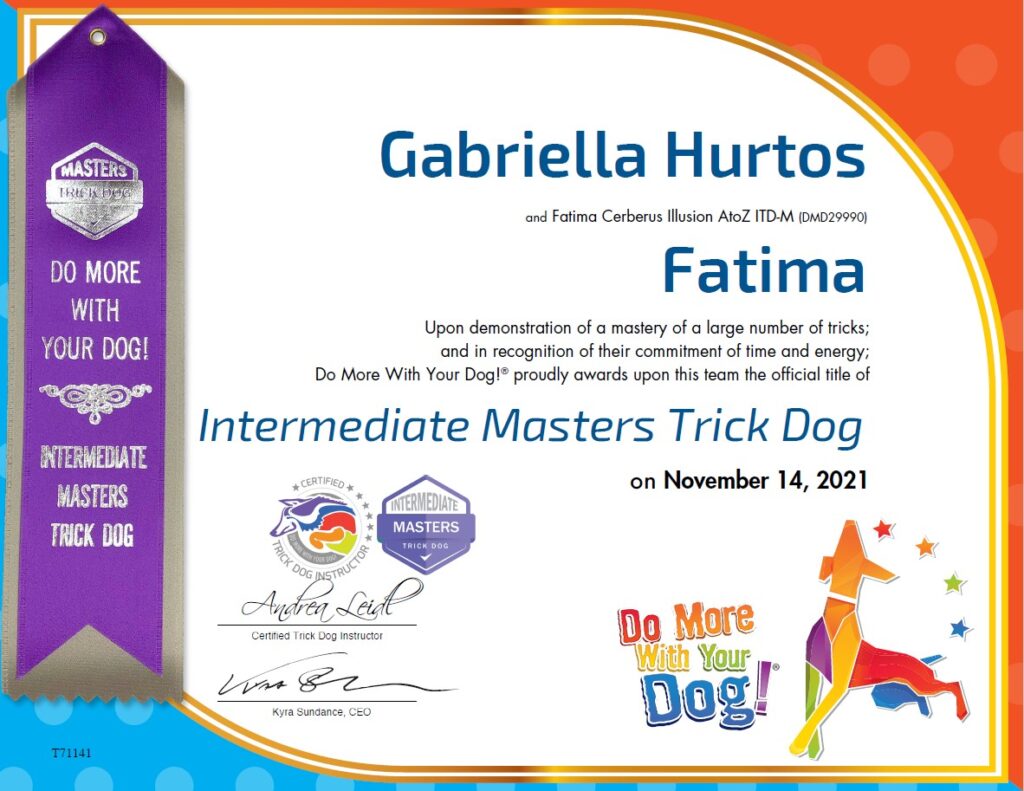 Health results
Hip dysplasia: free – HD-A/A
Elbow dysplasia: free – ED-0/0
Spine: Excellent
Parents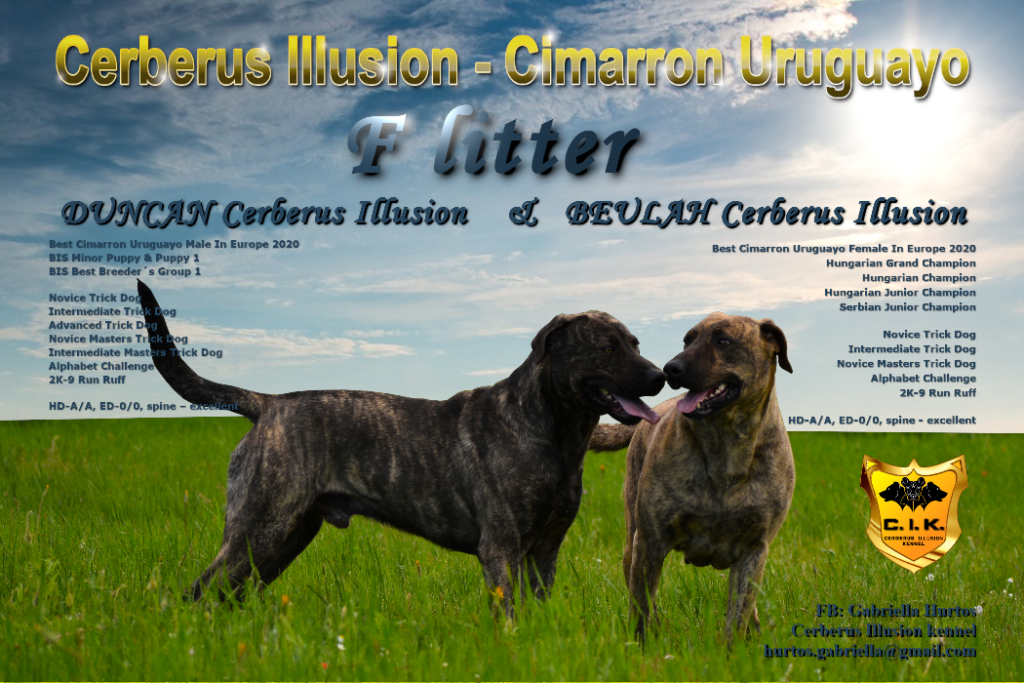 x