Trick Dog Class 19
Trick Dog Class 19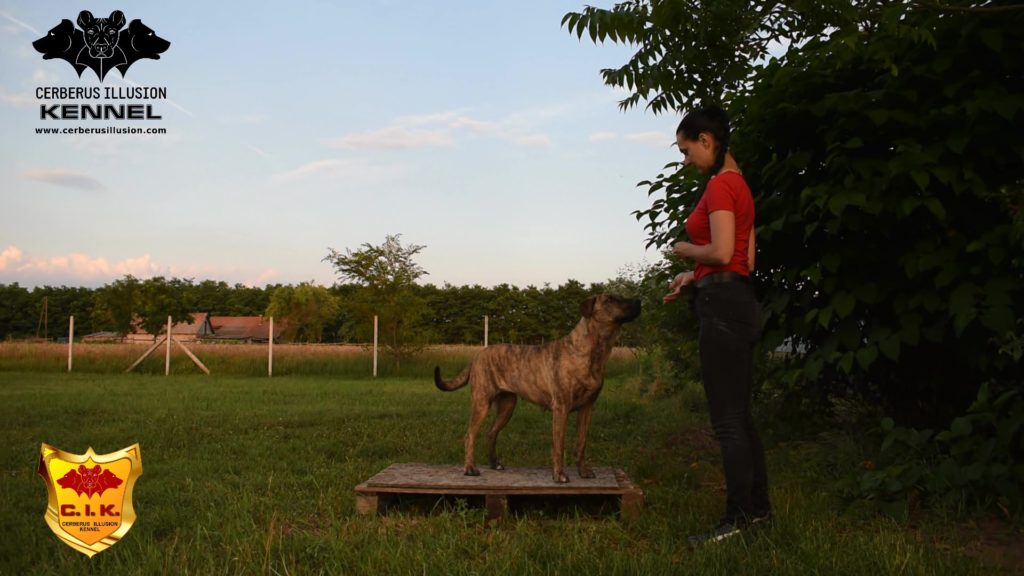 CLASS 19 – "Pedestal" (send to platform, 3 ft)
HODINA 19. – "Pódium" (odeslání na platformu, 1 metr)
Let´s start the Novice Trick Dog Training with Certified Trick Dog Instructor and Cimarron Uruguayo dogs from Cerberus Illusion kennel.
We will continue with the trick: Pedestal (send to platform, 3 ft) (video below).
Začněme trénink Začátečnického Trikového Psa s Certifikovanou Instruktorkou Trikového Psa a s Uruguayskými Cimarrony z chovatelské stanice Cerberus Illusion.
Pokračujeme trikem: Pódium (odeslání na platformu, 1 metr) (video níže).
English
1/ Obtain a variety of small soft treats (small pieces of sausages).
2/ Capture your dog's attention and call him with you onto the pedestal.
3/ You can lure your dog onto the pedestal with the treat. Or you can sit onto the pedestal and call your dog to join you. Or you can stand onto the pedestal and call you dog to come there too.
4/ Say "place" or "pedestal" as soon as your dog jumps up onto the pedestal and give him a treat.
5/ Praise your dog's behavior.
6/ Release your dog from the position and repeat steps 2, 3, 4 and 5 a couple of times (no more then 2-3 minutes).
7/ Play with the dog so as it has positive feeling connected with the training.
Feel free to join EU Trick Dog Spark Team and do more with your dog!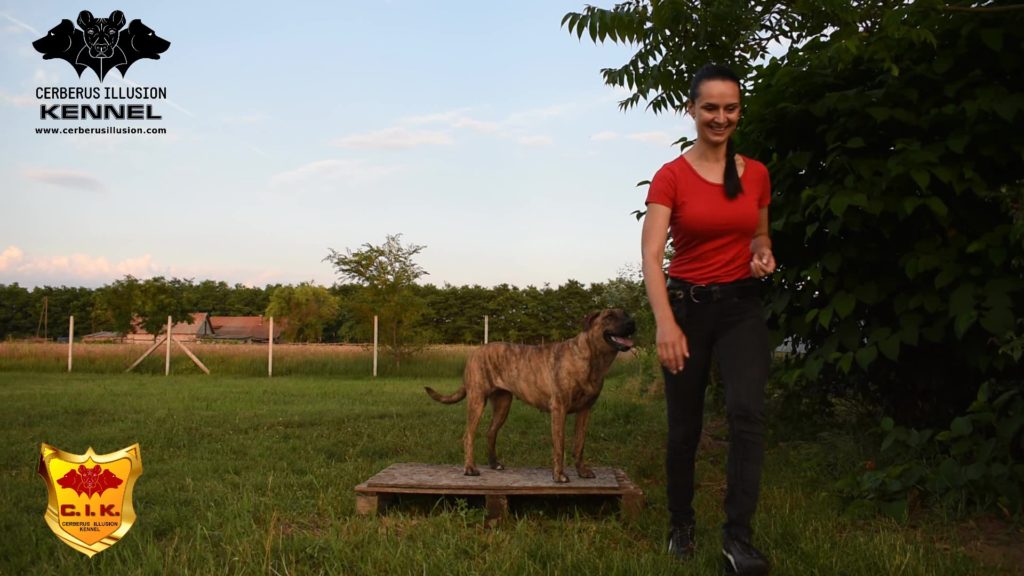 Česky
1/ Vezměte si různé drobné pamlsky (malé měkké jako např. párek, sýr, atd.).
2/ Upoutejte pozornost psa a zavolejte ho, ať Vás následuje na podstavec resp. pódium.
3/ Pejska můžete navést, aby vyskočil na podstavec i pomocí pamlsku. Nebo se můžete posadit na podstavec a přimět pejska, aby se k Vám přidal. Nebo se můžete postavit na pódium a zavolat pejska, aby tam přišel taky.
4/ Řekněte "místo" nebo "pódium", jakmile pes vyskočí na pódium a odměňte ho pamlskem.
5/ Chvalte chování psa.
6/ Uvolněte psa z pozice a několikrát (ne více než 2-3 minuty) opakujte kroky 2, 3, 4 a 5.
7/ Hrajte se psem, aby mělo pozitivní pocit spojený s tréninkem.
Přidejte se k nám na Facebooku EU Trick Dog Spark Team a dělejte více se svým psem!