My first dog
My first dog
Each one of us has some first memories from their childhood. Mines are connected with a big black dog, which was in our yard, always staying close to the doors, waiting for us to go out to pet it. OK, maybe it was only a small to medium size, but for a small child, it really looked like a GIANT beast. But this was not my first dog.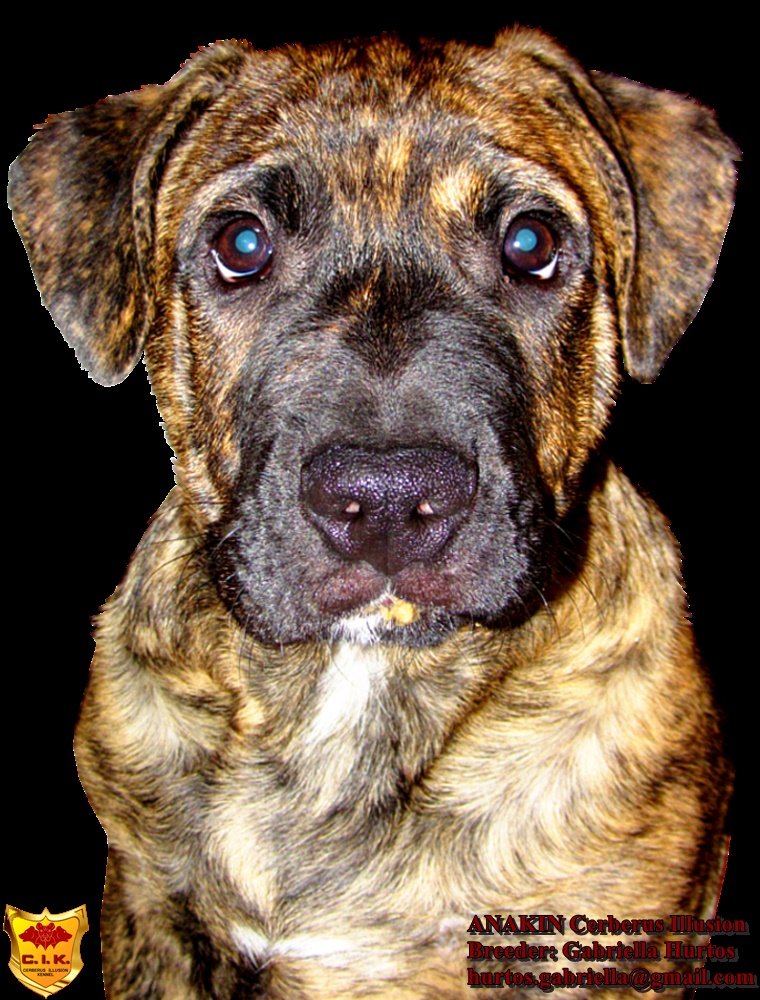 The super working dog
Then, there was a short time when we stayed without the dog. As I was growing; I wanted a puppy. The ideal one should had been a German shepherd. Because there was a German shepherd breeder a couple of houses from us. He usually trained his dogs in the training facility situated directly in front of our house. Today I know, I was not fascinated by the breed itself.
In fact, I felt in love with the character and eager of those dogs to work and to please their owner. They fulfilled each his command and keeping eye contact they were waiting for the next one. I was c. 4-5 years old by that time and this was the most important moment, which influenced my whole future life. I fall in love with the idea of a dog, which will watch each my secret desire and will be each time ready to do whatever I wish, only due to please me.
My first dog was not a Cimarron Uruguayo
After I knew for sure, I really HAVE TO have a puppy, I had to tell this to the right person. It was my grandfather, who was the easiest manipulated person in my family. I persuaded him to bring me a dog – a German shepherd, of course. He talked with the almost – neighboring breeder, but there was no puppy. He found a Dalmatian dog instead. When he told me about it, I was disappointed, as I already had a clear image of my future German shepherd in my head, so I refused his offer.
As time passed and no doggie had come into our family, I had a serious talk with my grandpa again. It did not matter at all, what breed I would get – I just wanted A DOG. A couple of weeks later, my grandpa called me to him and whispered into my ears (so as my anti-dog Mum could not hear it) that the same day my puppy would come. I was the happiest person on the Earth that day keen on waiting the evening, when my dog would come.
A special guest
I remember that evening as if it was yesterday. Our whole family was watching TV when a car stopped in front of our house. My Mummy looked out of the window surprised as she had never seen that person before. My grandfather and me knew very well, who it was. He brought MY DOG. But we both pretended being surprised as well as the rest of the family. My Mum went out to ask the foreigner how she could help him. He was looking for my grandpa, so my mother came back, telling him that he had a guest.
After my grandpa went out, the man opened the package of his car and took out a puppy in a box. My Mum was looking out of the window so she knew immediately what had happened and turning toward me she just told: "Oh my God, you persuaded your grandpa for a dog!" YES, it was exactly like that, but, of course, I had to pretend not knowing about anything: "What? A puppy? WHOA!"
This is how I got my first dog in my life. It was a white hairy mix dog and I fell in love with it since the first moment. I named it Harry but in fact, I do not remember much from those times, only that he did not live long with us as my uncle took him away.