How to train your puppy to sit
How to train your puppy to sit
Before dog training
Before you start thinking how to train you puppy to anything, you must select the appropriate place. It should be free from distractions. Ideally, your puppy is feeling comfortable there. I recommend a room indoors, because you can better control your puppy's activity level and confine it to better focus its attention. If you are not alone there, be sure, others will not disturb you during the training.
What treat to use
I do not recommend to give dry food during training (especially to fast eating puppies). The food given during training should be something, which they can quickly swallow without having problems and without the need of biting it, so as they can concentrate on the training and not on chewing the food. If you give dry food as treat, your dog can swallow it bad and start to choke. I rather recommend you to give small pieces of sausages as treats.
Patience
You must be very patient when training your puppy. Puppies have limited attention span and can be easily distracted. Give your puppy a break, if his attention is distracted so as it can fully focus during the training. Only positive reinforcement is advised when working with a really small puppy. Otherwise you risk that it will not want to work with you later.
Short training
Young puppies are able to pay attention only for a short time. If you start training your puppy, you should work with it only for a couple of minutes. But you can repeat the same training later that day.
When to start with training
You can start training your puppy at the age of 7 to 8 weeks according to its capability to pay attention to you. If you have a hyperactive, always moving puppy, you might wait a bit longer or adjust the training to your puppy. For example, you can train your puppy, when it concentrates to you.
Socialization at the breeder
Supposing you got a puppy from an excellent breeder – by the age of 8 weeks it will be already socialized to many things, will know its name and will be able to follow its owner. If your puppy does not know these things, start to teach it its name first by repeating it so often as possible by a kind gender voice so as it could connect it with something really positive. If you call your puppy by its name and it comes to you, be very happy each time the puppy gets to you, play with it and pet it. This is the best way how to give the basics for a later command "come".
Some of the first commands, which you can start with are the simple obedience commands such as "sit", "down" and "stay".
How to train your puppy to sit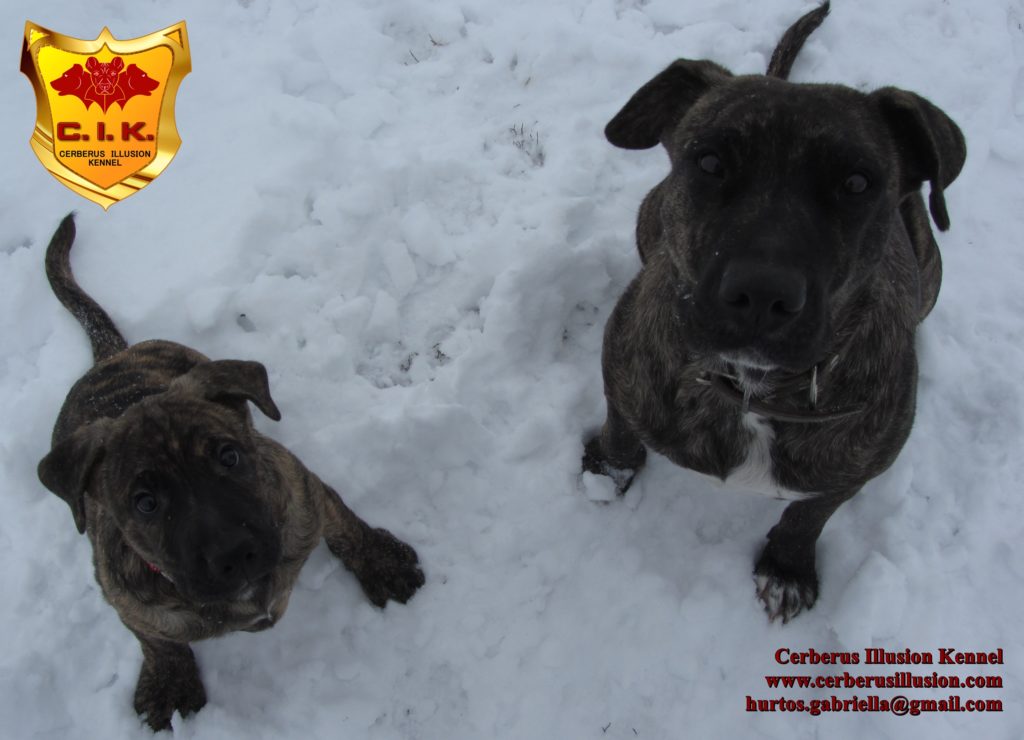 There are many ways how to teach this command to your dog and how to work it out into perfection as your dog is getting older. Now we will show you one of the easiest and most positive way suitable for a puppy:
Obtain a variety of small soft treats (small pieces of sausages).
Capture your puppy's attention.
Show the puppy a treat.
Move the treat in front of the puppy's nose then move it up and a bit behind while the nose of the puppy is close to the treat. The puppy following the treat with its eyes or nose will intuitively sit down.
Say "sit" as the puppy is sitting down and reward it with a treat.
Praise your puppy's behavior.
Release your puppy from the sit position and repeat steps 4, 5 and 6 a couple of times (no more then 2-3 minutes).
Play with the puppy so as it has positive feeling connected with the training.
If you prefer reading "How to train your puppy to sit" in Spanish, click here.
With the help of my Cimarron Uruguayo dogs I will show you step by step how to train your puppy and later your adult dog. Thus you can have your dream dog, which will do whatever you want from it.
I would like to thank very much to EADD CHANNELfor creating us this wonderful video!