Welcome to Cerberus Illusion!
The Best Cimarron Uruguayo Kennel In Europe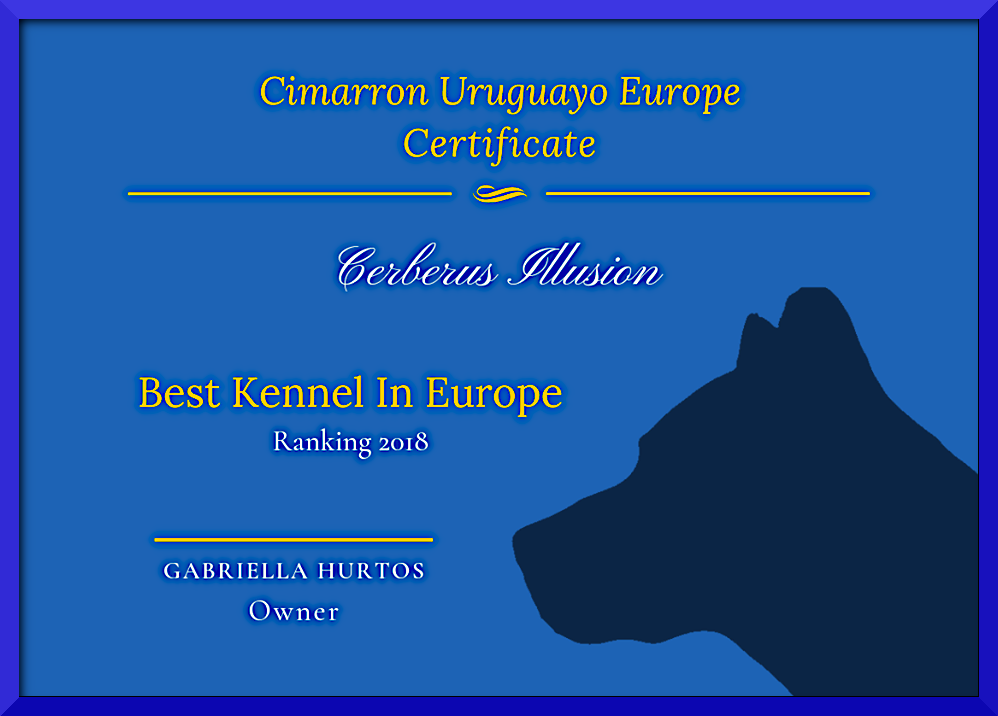 Cerberus Illusion has strict breeding criteria
Excellent health, character, working ability and anatomy according to the FCI standard are the most important factors in our breeding.
Health
Only dogs free of hip dysplasia (HD-A!!!) are used for breeding at Cerberus Illusion – number 1 Cimarron Uruguayo kennel in Europe. At dogs that are raised up at home, we check not only the hip dysplasia (HD), but also the elbow dysplasia (ED) and spine. I use only dogs with excellent health and X-rays results.
Working ability
Except of it, each dog used for breeding must have beautiful character and must be willing to work. It does not matter in which field the dog is "talented". It can do great job in obedience, tracking, hunting, protection or any other sport, but it must be willing to please its owner. All our dogs are working to produce excellent working Cimarron Uruguayo. Our dogs are not only show dogs. They are first of all family members and they all guard our property. They are trained in obedience, protection, fetching and some also in tracking.
Show results in the best Cimarron Uruguayo kennel in the EU
The propagation of such a rare breed as Cimarron Uruguayo requires also the presentation at various dog shows. In spite of the fact that the oldest "puppies" from my kennel are only 2 years old, till end of 2018 they gained plenty of titles: Junior World Winner, Junior Vice-World Winner, Best Derby Winner, Molosser Club Winner and plenty of other winner titles. They also got 21 champion titles including junior, adult, grand and show champion titles in 9 various countries. Cerberus Illusion dogs were already 41 times Best of Breed and 22 times Junior Best of Breed, BIS Best Brace 1st place and these numbers are changing very fast.
Cerberus Illusion Dog Blog
My dog blog is about Cimarron Uruguayo, their character, working ability and dog training. You can meet each my dog, its character and working abilities in this dog blog. At the same time, plenty of videos from dog training will be available.